Instant Playroom for Grandparents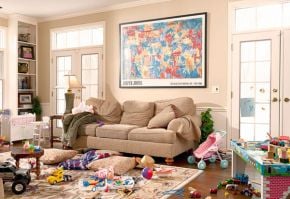 Do your kids' grandparents complain that your kids have too many toys? Are they hesitant to have them over for a weekend because of the mess they'll create? The perfect solution for the kids to have fun without sacrificing your parent's living room or family room is a play tent. 
They come in all kinds of designs. Some are girlie like castles and gazebos, some are boyish like army tents and fire trucks. There are also gender neutral styled tents.
The tent becomes your child's "mess-containment apparatus." Children love having their own perfectly sized place to play in, and by putting the toys inside it keeps them from taking over the rest of your living areas. Isn't that a great way to have an instant playroom and reduce the mess at Grandma and Grandpa's?
Maybe with this solution you can talk them into taking the kids so you and your honey can get away for a romantic weekend. You know, Valentine's Day is right around the corner…
Do you have any other suggestions for helping grandparents deal with the pitter patter of little feet in their very adult home?
Barbara Green is the owner of Sensibly Chic Designs for Life located at 830 Lamar Avenue,  in the
Plaza Midwood section of Charlotte and the host of Ask the Design Diva radio show.
She believes you CAN have it all: kids, pets, and a beautiful home.