Inspiring Creativity at a Young Age
Get crafting with your kids. We love it!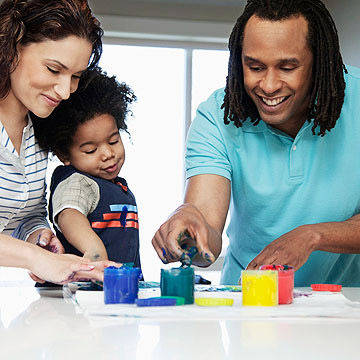 Hey Charlotte Parent, it's been a while! I am almost 20 now and my "kid's perspective" has shifted a little bit over the years as I've gained more experience, learned more about myself and what I want my future to hold. In the spirit of a life update, I am packing my bags in just a few days to embark on a semester long study abroad program in Sevilla, Spain. This adventure holds the potential to be a life-altering period and I cannot wait. While I'm there, taking a break from the University of Georgia, I will be interning in the Global Editing department at Glamping Hub Headquarters as well as representing my international program, CEA, as their official Mobile Journalist by creating
content of my travels and beyond.
I have a lot in store for the next chapter of my life and while it's exciting, it is important for me to unwind from time to time, re-center myself and go back to my roots. I was raised in Charlotte with family at the focal point of my upbringing. There is nothing more important to me than spending time with my family and this has been something I've done a whole lot over my break home from college before leaving the country for four months. The holiday season promotes this kind of familial integrity, but I've come to really appreciate a certain kind of activity when it comes to family bonding.
I drew inspiration from my favorite childhood past time: crafting. I have always been such a creative soul and my family has always encouraged me to hone this side of myself and allow it to shape my future endeavors. In the spirit of reverting back to my kid-like creativity, I surveyed classmates, friends, and roommates of mine to find out if this, too, was something they enjoyed as a child. To my surprise, I was overwhelmed with positive feedback from young people my age who longed for a simpler time in their life where getting messy, sticky, and creative was an everyday activity for them.
A few nights ago, I reminisced with friends about all the crazy things we used to get into as kids and how imaginative we were. I was recounting memories of doing my absolute favorite craft in the middle of my kitchen, making a huge mess, but having the MOST fun. I used to love to slice any and all vegetables in half, stamp them into my Crayola finger paints, and make bell pepper-shaped stamps on paper! I believe we still have a few of my master pieces somewhere in the box in the attic.
One of the best crafts to date that I've ever done with my family is still something we put to daily use! About a decade ago, I used paints, markers, and way too much glitter to decorate my very own tray that we still use to eat breakfast in bed. Realizing that this was a craft special enough to keep around the house for so long inspired me to write this blog! I believe that getting creative while your young and have endless imagination is something that can set a precedent for a way of life going forward. For me, the creativity never stopped even as I got older. I harnessed this child-like mindset all throughout grade school as I would design posters, take the creative lead during group projects, and even as I graduated high school with my Senior Exit Project when I created a full blown board game for kids!
These craft ideas to do with your kids to foster an environment of carefree creativity and self-expression! There are tons of great ideas right here on this website, on Pinterest, and on other blog sites, like Mama of 3 Munchkins, that all aim to get you inspired!
Fabric Covered Tray (make your own version of my age-old tray!)
As I mentioned, having your kids design their own tray that can be used for years to come is the perfect craft to show your kids just how much you value their contribution to the household. Serving food on the platter they designed is sure to give them a special feeling of importance!! And, hey, I still use mine to this day so you definitely get your money's worth investing in this craft with your kids.
https://mamaof3munchkins.com/2015/01/diy-fabric-covered-tray.html
​
This DIY banner is the perfect way to get your child involved in decorating their own room! This is so easily customizable and can serve a purpose in, honestly, any room in the house. All you'll need is some scrap paper, glue, string, and then any other additional stickers, paints, or glitter you want to add to increase the fun factor.
If you're doing this activity with young kids, have them practice writing their names on the banner.
If you're kids are a little older, maybe middle school age, encourage them to write an inspirational quote on the banner to then hang above their mirror to inspire a sense of confidence every time they look at it!
If you're kids are high school age, I would still suggest this craft as a mature way to add decor to their room by selecting some cooler, more decorate craft paper and aesthetic twine instead of regular string.
​DIY Wall Décor – Easy DREAM Banner
Hand Painted Foot Stool
This is another craft I remember doing as a kid that served a very practical use to me and my brother when we were not tall enough to reach the sink in our bathroom. Going to your local craft store and picking up stools, trays, bird houses, etc. is the perfect way to get everyone in the family involved in decorating and painting the new addition!
DIY Pencil Holder (Gift Idea for Teachers!)
This craft is so versatile because it is the perfect way to get creative and add a hands-on feel to something you could easily waste money on buying in stores.
Follow the instructions on the link below to create your very own pencil holder that is sure to get your kids excited for school.
End the school year by having your kids make this craft to give to their teachers instead of spending money on another gift that is nowhere near as heart felt and special.
Spare yourself the hassle of trying to find the perfect gift for your child to show up at their friends birthday party with when you can have fun creating this DIY craft that is perfect for a present!
Kids Craft Videos
Charlotte Parent has got you covered when it comes to fun, DIY kids craft videos that are the most efficient way to get your child involved in the planning of doing a craft. These videos are equal parts inspiring, informative, and simple! Happy creating 🙂
I have such fond memories of being covered in glitter, fingers sticky with glue, and a blue face from painting gone wrong (and, don't worry, the home-movies provide the inevitable comedic value) but I truly think that growing up in such a creative household has shaped my values as a young adult. I am headed into an industry where your creative innovation is the only thing to set you apart from others and I am so thankful for an out-of-the-box, resourceful, imaginative mindset that will help me thrive in the years to come. Taking the time to bond with your kids over a shared love of creative expression can benefit them in so many ways and is now an activity made easy with craft ideas like the ones I've shared here.