Inside the Magic of Family Camps
Tune out the rest of the world and tune in to what really matters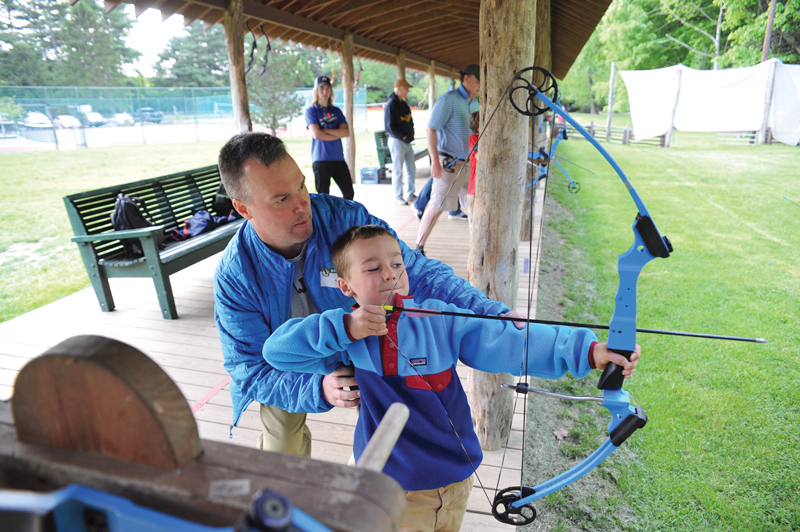 Family camp is the getaway that brings families closer together. Forget about chores and the schedule of events. Bring your attention and imagination. Immerse yourself into adventure and play. Huddle up and get cozy by the campfire. Family camp gives parents the opportunity to fully engage with their children without having to compete with digital devices, the never-ending to-do list or daily routines.
Family-Owned Family Camp
Anne Trufant, co-owner of Camp Kahdalea for girls and Camp Chosatonga for boys holds passionate beliefs about how family camping experiences have improved the lives of her family and other families she has worked with.
"It's been a profound experience, not only to bring up our children here, but there have been thousands of folks to come up here," she says of the camps, both located in Brevard. "We are about impacting lives and helping families come together. We want to create a space where they can come and just be together."
Anne and her husband, David, purchased Camp Kahdalea and Camp Chosatonga 30 years ago. The two share a love for summer camp spawned from their younger years as campers, and their mission is to pass that on to the next generation.
As a mother of seven children, Trufant says it was life changing to move from Louisiana to the Blue Ridge Mountains and create "something of great value" for children and parents. She continues to share her passion for camp with her son, Jeffrey, who works as program director of the camps; and with her grandchildren, whom attend camp now.
Family camp takes place at Camp Kahdalea — also known for its all-girls summer camp — over one long weekend each August. Located near Pisgah National Forest, the camp spreads over 180 acres of wooded land offering hiking trails, streams and Lake Kahdalea. Camp Kahdalea's family camp agenda also includes community meals, games, social events and a wide array of activities for parents and children to join in together, such as arts and crafts, archery, field sports, paddling, swimming and horseback riding. Full-day and half-day excursions are also offered and include hikes to waterfalls at DuPont State Forest and explorations of places like Black Balsam Knob and Devil's Courthouse. There are no additional costs for any of these excursions.
"It has always been important for us to make it financially reasonable for families," Trufant says. She understands how challenging it can be to pay for vacations for a large family. For that reason, Camp Kahdalea's family camps take a come-as-you-are and receive-what-you-need approach.
"We want to be a place of rest, joy, peace and fun," she says. "Our intention is to bring families together and create something they'll remember for a long time."
A Different Kind of Vacation
Shanna Molitor, a mother of six who lives in Augusta, Georgia, has attended family camp at Camp Kahdalea five consecutive summers. Molitor has children ages 2, 5, 7, 8, 10 and 12, and feels the diverse amount of activities fit the needs of her entire family. She says unlike some trips that require a lot of work and planning, family camp feels like a true vacation for her and her husband.
"Vacations are more work in a new place. So much time making food and trying to plan activities everyone wants to do," Molitor says. "Family camp takes away all the planning and prepping and you just get to spend time with your kids."
The primary reason the Molitars chose to attend Camp Kahdalea's family camp, however, was to scope out the facilities and camp dynamic for the possibility of both Camp Kahdalea and Camp Chosatonga serving as future sleepaway camps for their children.
"We wanted to make sure they were safe, supported and felt comfortable going out on their own," Molitar says.
The Trufants have seen a tremendous return rate from families who attended family camp who decide to send their child(ren) back when they are older to work as camp counselors for sleepaway camp.
"There's a camaraderie and sense of community built from the start; the joy and enthusiasm is palpable," Trufant says. "We make sure no child is lost here — even the child who is never picked."
Family camp helped Molitar's son, Max, come out of his shell. "He was real quiet and kind of shy, and there was a counselor working nicknamed Bit. She was so great to him, encouraging him to try new things," Molitar says. "When you meet someone that's really nice to your kid, then you love them instantly. She drew something out of him that we couldn't and that's priceless."
Molitar's oldest daughter has attended Camp Kahdalea's summer camp, and her son, Max, looks forward to attending Camp Chosatonga this summer.
Building the Father-Son Experience
Creating a space for fathers and sons to spend time together was important to father and Camp Rockmont Director Dan Davis. Located 13 miles east of Asheville in Black Mountain on Lake Eden, Camp Rockmont offers father-son camps during two weekends each fall that feature activities such as canoeing, kayaking, swimming, archery, blacksmithing, shooting and field sports, as well as classic camp activities like building campfires and playing games. Davis started the father-son camps 13 years ago after realizing his own need to be intentional about getting outside and exploring nature in an unencumbered way to become more present with his son, Micha, who is now a sophomore at Clemson University. Davis' son and 90-year-old dad, Cornelius, still join him during father-son weekends. Davis says these experiences have been vital for his and his son's personal growth, and for the development of a strong father-son relationship.
The weekend camps are designed to create a sacred space where dads can let go of day-to-day responsibilities and fully engage with their sons in a safe space.
"Going back to the best of your younger self, being free and adventurous, you're never too old to appreciate that," Davis says.
Camp Rockmont enjoys a more than 80-percent return rate, so it's important to plan ahead and register before the camps fill up, since there are only two each year.
Allen Perkins and his son, Will, started attending Camp Rockmont's father-son camp three years ago and have attended four thus far.
"We have so many wonderful memories from those weekends," Perkins says. "It's a great investment in my time and the return far exceeds what you can imagine."
Perkins, who attended summer camp in western North Carolina as a child, says it's special to relive those experiences with his son. One standout memory, he says, was teaching his son archery, a sport he thoroughly enjoyed during his childhood. It's also a great way to connect with other dads, he says.
"We've even come with our neighbors — four sons and four dads from our neighborhood this year," he says. "We are all friends, but it gave us the space to develop more depth in our relationships, and it was enriching to share this experience with our boys."
Perkins believes attending father-son camp is one of the best ways he can provide an opportunity for his son to grow. "My hope is for Will to develop skills away from an iPad and TV, communication skills and other interpersonal skills," he says.
Davis hopes Camp Rockmont's father-son camp offers attendees experiences from which they can build upon at home.
"We're all in this same journey, as parents," Davis says. "We find the best of ourselves when we're mindful and we can pass that on to our sons."
Crystal O'Gorman is a freelance writer who lives in Indian Land, S.C. with her husband Ryan and her children, Mikey, 8, and Bella, 6.