Inside-Out Cheeseburgers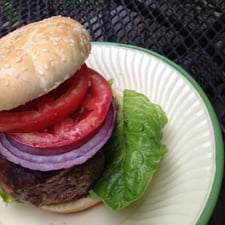 Ingredients:
1 pound Proffitt Family Cattle Co. certified organic ground beef
1 tablespoon sea salt
1 teaspoon pepper
1/4 cup sun-dried tomatoes packed in oil, drained and finely chopped
1 tablespoon dried minced basil
1 tablespoon dried minced oregano
1 cup of your favorite cheese (I like white cheddar or mozzarella)
Preparation:
Combine all ingredients except cheese. Shape into patties, stuffing a small bit of cheese into the center of each patty and making sure to completely surround the cheese with the beef. Grill burger to your liking. Serve on biscuits or buns with a slice of cucumber, or on a lettuce leaf and tomato slice finished with your favorite condiments.
Heidi Billotto is a culinary expert who offers cooking classes throughout Charlotte.