Inside Mount Holly's Lantern Parade
The event, lighting the streets with fantastical creatures, returns this month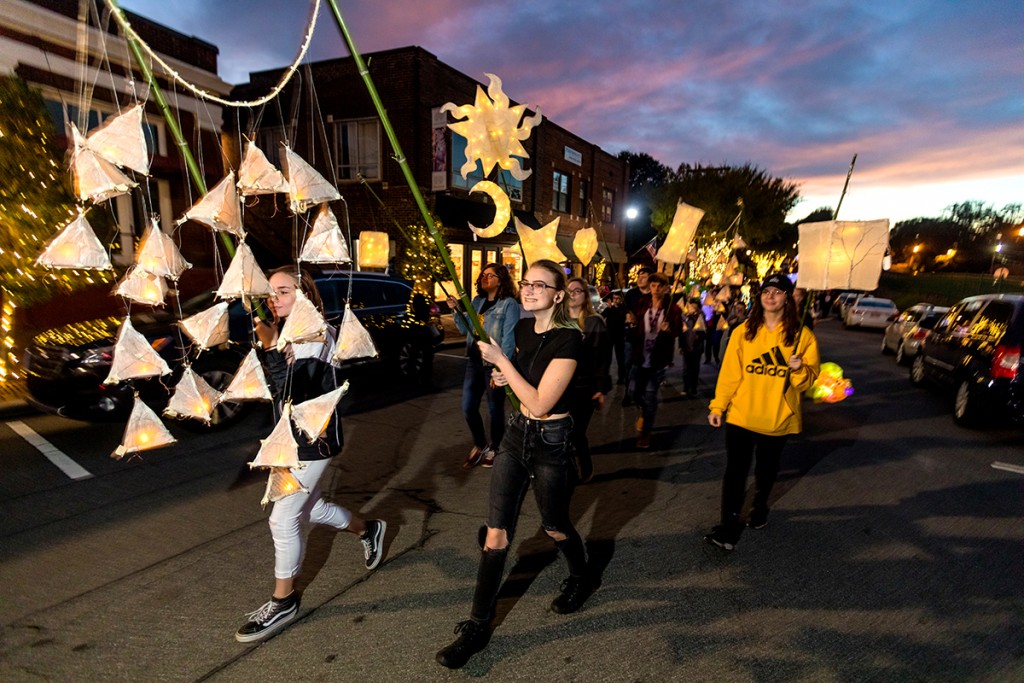 In 2017, artist Emily Andress saw her first lantern parade in Paris. The experience inspired her to plan one for Mount Holly. "I realized that it had to happen in Mount Holly to bring awareness to the importance of the arts in education as well as to shine a light on [the town]," says Mount Holly resident Andress. "This town, literally minutes from uptown Charlotte, has the focus of becoming an arts destination and has embraced this parade like no other."
On Oct. 26, Mount Holly will host its second Lantern Parade. Hundreds of spectators will gather on the tree-lined streets to watch more than 350 people carry colorfully decorated and creatively shaped lanterns. Lanterns are held on bamboo poles and lit with LED fairy lights. The theme this year is "Myths, Fables, and Fairy Tales."
The Lantern Parade, led by a percussion drumline, begins at Ida Rankin Elementary School. The procession continues through the town's tree-lined streets and ends at the Mount Holly Farmer's Market for awards and live music by Gigi Dover & The Big Love.
Twelve teachers from various area schools will bring 350 students and more than 200 artists and community members. Andress partnered with the Mount Holly Community Development Foundation and locally owned businesses such as Stanton Enterprise, Inc., Gaston County Travel and Tourism, Daimler Corporation, Sam Kline of Coldwell Banker, Barwick Construction, Adam Lee of State Farm Insurance.
Last year was the first Lantern Parade, and the theme was "Nature." Lanterns took the shape of creatures such as a 13' foot-long snake with its mouth opening and closing, a 7-foot-tall praying mantis, a 6-foot-tall tall phoenix, a Pegasus and an angler fish.
"The first year is always the toughest because this is a very unusual parade and difficult to explain," she says. "We didn't know how many people would attend. By the time we turned the corner on Main Street, we were blown away by the amount of people who showed up. They were five-deep on the sidewalks and spilling into the street."
Long-time Charlotte resident, Andress, 61, has been a fulltime painter and sculptor for 40 years. In 2015, she participated in ArtPop Street Gallery – a program bringing attention to local artists through outdoor billboards, newsstands and electronic boards. This exposure helped Andress sell more of her artwork, allowing her to pursue a lifelong dream of opening an art gallery in Mount Holly, Awaken Gallery.
Families are invited to spectate at the parade or join in with a handmade or a premade lantern from a commercial retail store such as Party City or WalMart. Sign-up for Awaken Gallery's newsletter for information about next year's lantern making classes.
"The streets will be filled with fantastical creatures that will bring favorite stories to life," she explains. "At the end of the parade, all of the lanterns congregate at the Mount Holly Farmer's Market where people get their pictures taken with their favorites."
Lantern Parade
Oct. 26, 7 p.m.
Free Parade begins at Ida Rankin Elementary School, 301 W. Central Ave., Mount Holly 28120
Awaken Gallery
Free admission
Hours: Tues.-Sat. 11 a.m.-5 p.m., Sun. and Mon. closed
107 W. Central Ave. Mount Holly 28120