Inside 'Downton Abbey: The Exhibition' at Biltmore
Plus: Info about this year's Christmas festivities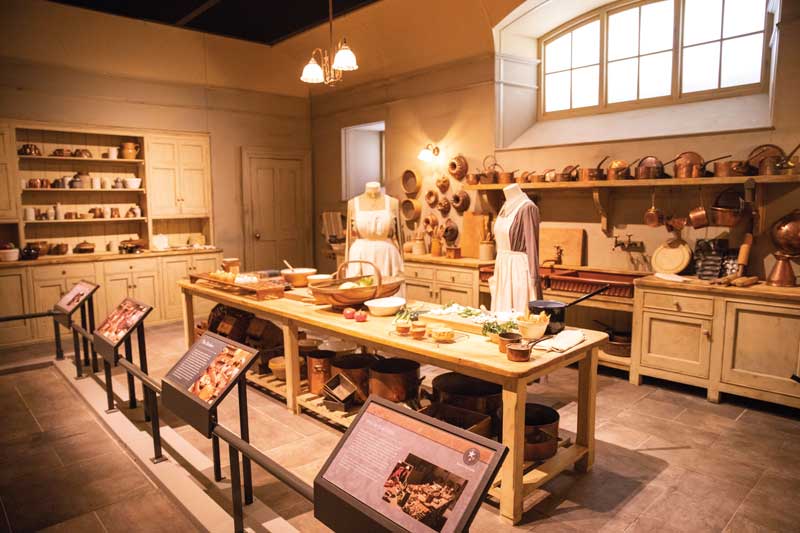 Seeing Biltmore gussied up for the holidays in Asheville has become an annual must-do event for many North Carolinians, and the added grandeur of "Downton Abbey: The Exhibition" on the estate grounds makes this year extra special.
This nationally touring exhibit, produced by NBCUniversal, Imagine Exhibitions and Carnival kicks off Nov. 8, 2019, running through April 7, 2020, and features exclusive multimedia elements. Timing of this exhibit is perfect for fans of the British drama series — which originally aired in September 2010 on PBS's Masterpiece Theater — since the "Downtown Abbey" feature film hit theaters this past September.
The New York Times has called "Downton Abbey: The Exhibition" a "cleverly immersive experience mounted with the same exacting care as the show itself." View "Downton Abbey" set recreations, 50-plus costumes and additional early 20th-century artifacts throughout two areas of Biltmore estate. These exhibits create an immersive experience inside the grand dining room, kitchen and bustling servants' quarters.
The best part? The exhibit is included with a regular day pass or admission to the Candlelight Christmas Evenings event, which takes place Nov. 1, 2019-Jan. 4, 2020. (Note: Tickets are free for ages 9 and younger. Prime dates and times sell out quickly, so book online seven or more days in advance at biltmore.com or by calling 800-411-3812 — and save $10.)
Visit before Jan. 4, 2020 to enjoy the estate's stunning holiday decor, including a 60-foot tree decorated in 55,000 lights on the front lawn, and 56 carefully curated Christmas trees inside the 175,000-square-foot behemoth mansion. The estate is illuminated with nearly 200,000 lights and luminaries indoors and out; and visitors can gaze upon nearly 30,000 ornaments, more than 500 wreaths and over 2,000 festive live plants — half of which are poinsettias — scattered throughout the estate. Add a plethora of kissing balls, garlands and ribbons hung throughout the property, and your whole family will leave with visions of sugarplums dancing in their heads.
Other special events happening during the holiday season at Biltmore include Bonfires & Smores Nov. 1, 2019-Jan. 3, 2020; and visits with Santa and roving holiday carolers on select dates. Gingerbread House Tea takes place in the Vanderbilt Room on Dec. 14, 15, 20, 21 and 22, and includes decorating a gingerbread house, nibbling on holiday desserts created by Biltmore Estate pastry chefs, colorful candies, delicious tea sandwiches and, of course, an assortment of holiday teas. (Holiday cocktails can also be purchased a la carte.) Tickets for a Gingerbread House tea is $95 per person.
Learn more about the exhibit and special events taking place this holiday season at biltmore.com.
Shawndra Russell is a travel and business writer and novelist based in Asheville.