Indoor Swim Lessons Around Charlotte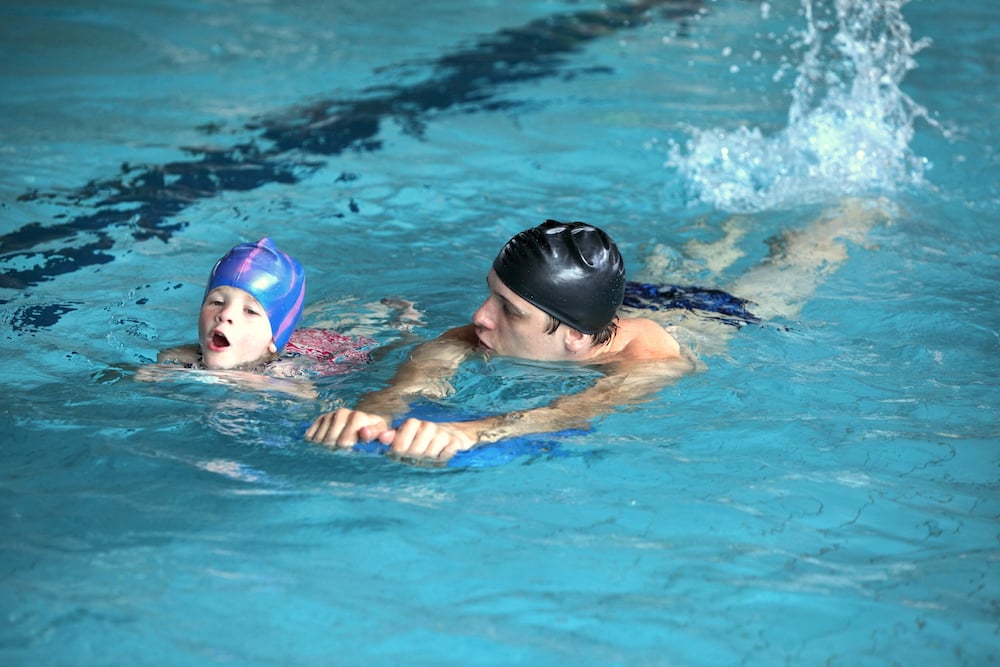 The below indoor swim facilities are located all around the Charlotte area, offering year-round swim lessons for babies to big kids.
If you're looking to bond, consider lessons that allow families to swim together as kids practice what they learned in class or simply splash around for fun.
Group lessons typically include four children for every one swim teacher. Some swim schools offer semi-private lessons that are two children paired with one facilitator.
Most schools run classes on a monthly or six-week basis, with the majority of classes running 30 minutes long.
And, if you're wondering: Water temps at the indoor pools usually hover around 88 to 90 degrees Fahrenheit.
The swim lesson locations listed below offer classes for beginner and advanced swimmers alike, from babies and tots to older kids and parents too.
Find the right fit for your family and register soon; classes can book up quickly ahead of summer swim season. (Facilities are listed in alphabetical order.)
---
Originally founded in 1991 in Arizona, area franchise Aqua-Tots offers group lessons for babies as young as 4 months old with a parent, up to age 12.
Instruction is available for children with special needs, and classes are 30 minutes each.
Locations: Ballantyne, Myers Park, and Matthews
---
At locally-owned Charlotte Aquatics, parent-child classes are offered for babies aged between 6 months and 30 months. With a 5:2 student-teacher ratio, this swim school has taught more than 70,000 swimmers in Charlotte.
Group, private, and semi-private classes are offered for ages 30 months to 14 years at varying levels of instruction based on a child's ability. Lessons also are available for swimmers with special needs for ages ranging from 3 months to adult, plus a baby bonding and brain development class for ages 3 to 5 months.
Location: 7835 Little Ave., Charlotte, NC 28226
---
Serving families since 1991, this family-owned swim school's motto is: "Great beginnings lead to great finishes!"
Charlotte Swim Academy offers private lessons for children beginning at 18 months old plus "Stroke" classes for those at least 5 years of age, and "Team" classes for those at least 7.
Location: 9315-A Monroe Road, Charlotte, NC 28270
---
Group, semi-private, and private lessons are available at Goldfish Swim School for babies as young as 4 months (with parent) to children aged 12 and up. Parent-assisted and classes without adult participation are available for infants and toddlers.
The student-to-teacher ratio in group classes here is 4:1. Family Swim Time is also offered.
Location: 13403 S. Ridge Drive, Charlotte, NC 28273
---
LJCC JAWS Swim School is designed for children aged 3 and older. For babies, parent-assisted group classes are offered for ages 6 months to 2 years old. Group, semi-private and private lessons are available here.
Infant Survival Swim, also known as the Infant Swim Resource Self-Rescue program, is available at the JCC for children aged 6 months to 6 years old. ISR teaches babies and toddlers survival techniques if they find themselves in water alone.
Location: 5007 Providence Road, Charlotte, NC 28226
---
Little Otter Swim School teaches parent-assisted lessons for families with children as young as 6 months old.
Additionally, group instruction is available for babies (with parent participation), beginner swimmers (ages 3-5 and 6-11), and intermediate and advanced swimmers.
Lessons include an annual registration fee and the classes run a half-hour long each week.
Locations: Charlotte (Sardis Road) and Huntersville
---
At Marion Diehl Recreation Center, children as young as 3 years old can participate in either group or private lessons.
Following the Starfish Swimming Instruction Certification Plan, this swim school is benchmark-focused, containing five stages that build on one another—each focusing on a specific core competency of swimming.
Location: 2219 Tyvola Road, Charlotte, NC 28210
---
Ray's Splash Planet is open year-round for open swim, birthday parties, programs, fitness, and more.
Location: 215 N. Sycamore Street, Charlotte, NC 28202
SafeSplash is the official swim school of USA Swimming. Partnered with SwimLabs Swim School, they offer lessons from basic safety to elite racing techniques, accommodating swimmers of all ages and abilities.
Location: 1309 Broadcloth Street, Suite 101, Fort Mill, SC 29715
---
Partnered with SwimMac North Swim School, Huntersville Family Fitness and Aquatics Center offers private and group instruction for all ages—swimmers can range from 6 months to 80 years old.
Swim programs are also specifically offered for homeschool families here.
Location: 11725 Verhoeff Drive, Huntersville, NC 28078
---
SwimMac at Charlotte Latin School offers adult-assisted swim lessons for children aged 6 months to 2 years old, plus lessons for preschoolers, grade-schoolers, and adults.
Swim programs are also specifically offered for homeschool families, among others.
Location: 9850 Providence Road, Charlotte, NC 28277
---
Group and private swim lessons offered for all ages at Ys across Mecklenburg County—from Lake Norman to Matthews.
Lessons accommodate children as young as six months, and the classes are tailored by swimmer age and abilities.
Locations: Throughout Mecklenburg County