In the Shadow of a Sibling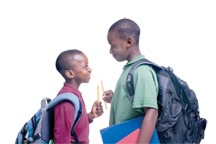 In the timeless children's book "Ramona Quimby, Age 8" by Beverly Cleary, the protagonist, Ramona, relays her excitement in entering a new school. Among the many things she is thrilled about is that none of the teachers at the new school will know her older sister, Beezus. Beatrice, her actual name, is always "prompt and neat," the model student, while Ramona, marches to the beat of her own drum, so to speak.
This scenario of being in the shadow of an older sibling is something many children face at the start of a new school year, and as many students return this fall to teachers who have taught an older sibling in previous years, they may find themselves facing unnecessary comparisons.
One Family, One Teacher
The main ways this situation plays out are, 1.) the older sibling was a mediocre student and the younger child is not; or 2.) the preceding older sibling is high achieving academically and the following child is less so. Dr. David Verhaagen, a psychologist with Southeast Psych in Charlotte, says the second scenario, the one in which Ramona often found herself in, tends to cause more of a problem than the first. He recommends parents communicate a strong message to the school, as well as to their child, that both siblings are different children with different strengths, weaknesses, personality traits and needs which should not be compared.
In addition, Verhaagen advises parents to sit down one on one with their children to emphasize these differences and highlight the fact that individuality is OK. A parent may not be able to control their kids having the same teacher, but they can aid them in how they feel about themselves.
Not All Children Learn the Same Way
Phyllis Cooper, a Charlotte mother of three boys, had all of her sons go through preschool with the same teacher. In her experience, she found her middle child, Tyler, was treated as if he were "the dumbest kid in class," when in reality, he was on target with his peers, just not as quick a learner as his gifted older brother, Miles. Cooper often felt as though the teacher constantly focused on what Tyler could not do, instead of giving him the encouragement he needed.
She advises parents to do what she did and directly address the teacher, as well as work with their child one on one at home. With regard to dealing with the comparisons, she says, "There is no preparation. He will always be in his (older brother's) shadow – all I can ask is for him to do his best." Later on in her kids' academic careers, Cooper even went as far as sending each boy to a particular school that would cater to each of their particular needs. Miles now goes to an IB school, and Tyler attends a charter school.
Relative to Relativity
Both Cooper and Verhaagen agree children are uniquely different, and parents should recognize that one of the main differences in their children might be their sensitivity. Some children let words and situations roll off their back a lot easier than others. Children vary academically and emotionally, and parents should assess each scenario accordingly.
For Cooper's situation, having the same teacher is not advisable, but as Dr. Verhaagen says, the parent cannot always control this situation.
Here are five ways parents can help their children with different personalities and learning styles learn under the same teacher:
1. Directly address the school, specifically the teacher, and make him or her aware of the differences in your children. Try to stress the importance in not comparing the two.
2. Sit down with your child and highlight his strengths and weaknesses, and let him know it is OK to have these differences. You can even use yourself as an example by making comparisons about yourself to your siblings or spouse.
3. Keep a close watch on your child's situation so that if she is not receiving the help that may benefit her learning needs in school, you can arrange for extra remediation and activities outside of school.
4. Try to limit comparing your children. Redirect any conversations with others who are pointing out the children's differences by interjecting positives about both your children.
5. Remember that each child is different, with different temperaments and sensitivities, and take appropriate action accordingly.
Tramaine Howard is a freelance writer and Charlotte mom.