In Her Shoes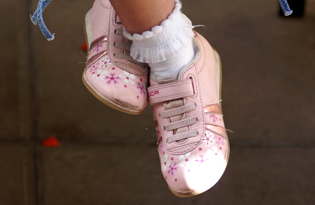 Every time my mother-in-law visits, she brings my kids a new pair of shoes. They're always sensible, good-quality, conservative shoes, and my daughter Sage is always excited to try them on. Before her grandparents' last visit, however, Sage insisted on calling my mother-in-law with a request.
"I want shoes that light up," she said. "Like my friend Jayden has."
Later that day at the mall, Sage looked in a store window with great excitement. "That's the same jacket Chloe has. Actually, she has two different jackets, and I only have one. Perhaps I need another one too."
And in the car ride home: "Sydney in my class loves Justin Bieber. Daddy, can you change the radio station and try to find a Justin Bieber song, please?"
It's happened. Overnight, my daughter's friends and classmates have become a huge influence in her life. My wife and I have never been into fashion or keeping up with the lifestyles of friends, so this came as something of a shock. It also shows how fast our kids are growing up. We find ourselves talking to Sage in a more grown-up tone, using bigger words, yet we cannot forget she is still only 5. If this is strange to deal with now, it's hard for me to imagine the changes when Sage turns 9, 13, 17. Yikes!
Thankfully Sage's buddies have good taste and good manners. They are great kids. We've quickly realized the days of buying clothes and accessories for her without her input, however, is long gone. Thankfully our son Brayden voices no wardrobe opinions, as long as it's comfy. He has three versions of the same pair of sweatpants, and couldn't care less. We are worried though that one day he'll wake up and turn into his Uncle Brad, who needs a closet just to house his 30 pairs of blue shoes.
In the meantime, my wife and I laugh, and resign ourselves to her grooving with Justin Bieber while wearing shoes that light up.
Bruce Snyder is a longtime sportscaster who lives in Charlotte with his wife, 5-year-old daughter Sage and 2-year-old son Brayden.