I'm Bored!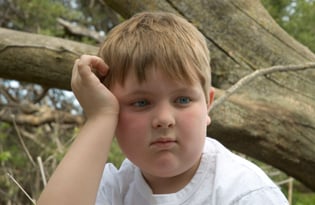 After an entire day of outdoor activity – biking, playing soccer in the park, street hockey in the driveway, a trip for ice cream and a rousing round of hide-and-seek – my son plopped his little body down on our front stoop and let out a huge sigh.
"I'm bored."
Seriously? He takes a 30-second break from a nonstop festival of fun and he's bored?
Normally, this would drive me crazy. But instead, I smiled brightly and said, "Great! Being bored is good for you!"
And I'm not the only one who thinks so.
British psychology professor Dr. Richard Ralley, a senior lecturer at Edgehill University in Lancashire, England, is currently researching the benefits of boredom, which he believes is actually valuable for children.
Yet many parents not only get irritated upon hearing those two oh-so-powerful words, they also get extremely stressed, says pediatrician Dr. Meg Meeker, best-selling author of "The Ten Habits of Happy Mothers: Reclaiming our Passion, Purpose, and Sanity."
"Mothers are terrified their kids are going to be bored, and we're terrified that if we allow them to be bored, we're bad parents," says Meeker, a mother of four. "And just the opposite is true: The parent that teaches their child that they can live with and pull out of boredom is a wonderful parent because teaching kids how to deal with boredom is an extremely important life skill."
Tanya Zelyuk, a mother of 7-year-old twins and a 3-year-old, thinks enrolling kids in way too many activities feeds into the culture of boredom.
"Kids are being raised in a world with so much outside stimulation," notes Zelyuk. "The minute there's a bit of downtime, kids are stumped to actually entertain themselves."
Meeker agrees: "Our kids are recipients of activities. They're spoon-fed entertainment all through life and they never learn to get their imagination going. We have kids graduating college who just want to be entertained: they want to fly around the world. I see my own kids want to do this. A nine-to-five job in a bank? Are you kidding me? That's boring! Changing diapers day after day? That's boring! Our days are filled with things that are boring, and if we don't teach kids how to deal with boredom, we've really done them an enormous disservice."
Children must use creative skills to learn to fill ample time and space, says Meeker. "And that's an active process that every child needs to do; it's very important for intellectual growth and for brain development."
Zelyuk gets so aggravated when her children complain that they're bored that she sends them to their rooms for half an hour.
"There's a lot of groaning and moaning about it, but 10 minutes into this 'punishment,' I hear creativity going on. My son will be building something; my daughter plays school with her dolls. That's healthier than staring at a computer screen, clicking buttons."
Learning how to deal with boredom is a crucial life skill, says Meeker. "You have to create happiness: it doesn't just happen to you. It's when creating something out of nothing that the real joy begins to happen."
Wendy Helfenbaum is a writer and television producer whose son is very good at entertaining himself – most of the time.