Icy Rainbows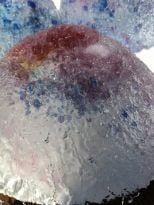 Winter must be making me think about ice, because here's another ice project…albeit one that we did over the summer, and it wasn't one of Amelia's favorites.  But I thought it was very cool (pun intended), and it might be more of a winner at your house.
Part science experiment, part art, I read about this one over at the Artful Parent and couldn't wait to try it. The link has very detailed instructions, so I'll just summarize here and tell you our experience.
You do need to plan for this about a day in advance, in order to freeze large ice cubes in bowls or pans.  But other than that, the preparation is very simple.  You'll need:
Large ice
Salt
Some kind of dropper
Liquid water color or food coloring
We used a baking tray to protect the table from spills, and liquid water colors instead of food coloring for easier cleanup.  Since we didn't have any real droppers, we substituted a medicine dropper. If you don't have one of these from your kids' last prescription, just ask a pharmacist and they'll give you one.
The idea is to put salt on the ice, and let the salt melt little tunnels through the block. This happened, but it was a little bit hard to see.
Enter the color.  By dropping colors onto the ice cube, you can more clearly see the little tunnels, because color runs through them. It's beautiful, and working with ice is always an interesting sensory experience. Not to mention, using a medicine dropper for something other than medicine is always treat.  Because the tunnels crossed one another at different depths through the ice, you could look through the block and see colors overlapping which was quite beautiful.
And then there's the science.  Amelia didn't particularly care why salt melts ice.  She was more interested in bringing the ice outside to see the colors in the sunshine, and letting them melt on paper to see what kind of puddle prints we could make. If you're wondering about that too, well, the puddles sort of dissolved the paper but that's another experiment!
Have fun, stay warm while playing with ice, and Happy New Year from our mess to yours!
Want more Mess? Visit melanie's blog, or stop by her Etsy store, Made by Mommy!