I Am Thankful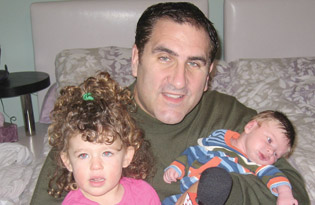 November is an awesome month in the Snyder household. In the spirit of Thanksgiving, I would like to share a few reasons why I am so thankful.
I am thankful for getting paid to watch and talk about sports. While being a sportscaster is a cool job, I work my keister off, and my wife, Charisse, makes a lot of sacrifices to make sure I can work my keister off.
I am thankful for having the best wife in the world. (Boy, will that get me some brownie points!)
I am thankful for having the most beautiful wife in the world. (Hey, if you're going to kiss up, you might as well go all the way.)
I am thankful for two healthy, happy kids: Sage, who turns 4 Nov. 14, and Brayden, who turns 1 Nov. 17.
I am thankful the two of them were born so close together that we can have one party for both kids. I feel a little guilt over it, but we're not the only parents who do this, are we? Anyway, when Sage and Brayden get older, we'll make sure to give them separate birthday parties – separate but equal.
I am thankful for grandparents who feel guilty enough about living so far away that they make frequent trips to Charlotte, which means Charisse and I have frequent opportunities to sleep in, and even have an occasional date night.
I am thankful our work schedules sync up in such a way that one of us is always able to be at home with the kids. Besides, when it's my turn to watch the kids, I get to teach them all sorts of useful things, like how to wrestle against dad, how to make a mess in the kitchen, how to properly watch a Panthers game (with feet firmly planted on the coffee table), how to throw a baseball outdoors, how to make a mess in the living room, how to throw a baseball indoors and how to properly go down a slide.
I am thankful Brayden likes to wake up two or three times during the night. Actually, this is kind of a drag, but I cannot complain during a Thanksgiving column, can I? Besides, I get in a lot of deep thinking during these late night cuddle sessions, pondering such things as the meaning of life, and the meaning of me gaining those 7 extra pounds.
I am thankful for all the encouragement I've received writing this column. I thought it would be hard work; instead, it's fun sharing my thoughts. It's even more fun when my words move you to contact me with your experiences. Thank you for making this first year at Charlotte Parent magazine a fun and rewarding experience.
Finally, I am thankful for tryptophan, the amino acid that makes you sleepy after eating turkey. (Big wide yawn.) See you at the ballgames.
Bruce Snyder is the sports director at Fox Charlotte. He lives in Charlotte with his wife, Charisse, daughter, Sage, and son, Brayden.
?