Huge Pizzas and Delicious Food at Libretto's Pizzeria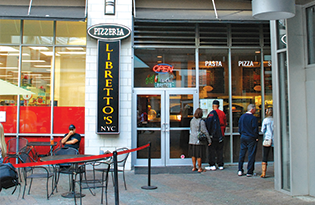 Libretto's Pizzeria
EpiCentre, 210 E. Trade St., Suite D-164
Also located in Ballantyne
704-971-9088
librettospizzeria.com
$-$$$
While I made reservations for an upcoming date night at a fine dining restaurant, the hostess there recommended a nearby pizza place for our family's lunch that day. We took her suggestion and the three of us ended up having a wonderful time at Libretto's Pizzeria, located in the EpiCentre.
Our server, Rebecca, greeted us with enthusiasm and gave suggestions from the menu. She informed us that, although they're known for their pizzas, their pasta dishes are wonderful, too. The menu also includes calzones and entrees such as chicken parmesan. We wanted to try several different items, so we opted to share an eggplant parmesan and a large pizza, which we happily learned could be made half pepperoni and half specialty (white pizza, made with ricotta cheese). We also ordered stuffed mushrooms and garlic knots as appetizers. My 3-year-old chose a pizza and drink from the children's menu.
We took advantage of the great fall weather and ate on the outdoor patio. We enjoyed watching the hustle and bustle of passersby in the little alcove of the EpiCentre, which included a fall festival the day we were there.
When our food arrived, we didn't hide our shock at how enormous the pizza was. It was 18 inches with slices the size of most dinner plates! Everything we ate was absolutely delicious, so we didn't really mind the fact that we had so much food left to bring home.
I love pizza, and I love trying and supporting smaller, more local establishments, so Libretto's Pizzeria was a great find. And with Leonard Bearstein's "singing bears" coming back to nearby Founder's Hall this holiday season, we'll likely be back very soon!
SIDE DISH
Milk and Juice: Yes | Changing Stations: Yes | Kids' Menu: Yes
Symbol Key: $ = under $10 * $$ = $11-$15 * $$$ = $16-$20 * $$$$ = $20-plus
> Read last month's restaurant review: American Roadside BurgerÂ