Howling Halloween Fun Stuff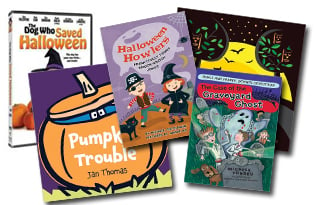 Get in the Halloween spirit with these books, movies and costumes. From the story of a jack-o'-lantern gone awry to funny knock-knock jokes and ghostly mysteries, there's something for all ages.

Preschoolers



"Pumpkin Trouble"
By Jan Thomas
Harper Collins Publishers, 2011
$9.99
The traditional Halloween craft of carving a jack-o'-lantern turns into a hilarious adventure when Duck falls into a pumpkin and can't find a way to get himself out. He then turns into a pumpkin monster and chases his terrified friends, Pig and Mouse, around the barnyard. Each page is vibrantly illustrated with bold colors and fun characters, adding even more enjoyment for the young ones. The quote bubbles and sound bursts make it easy for beginning readers to read aloud or follow along. A perfect read for any family looking forward to carving pumpkins.
?

Big Kids



"Halloween Howlers"
By Michael Teitelbaum
Illustrated by Jannie Ho
Harper Collins Publishers, 2011
$6.99
Knock, knock! Who's there? Bee! Bee who? Bee-ware, it's Halloween! Your jokester is bound to adore this and the more than 20 other knock-knock jokes featured in this frightfully funny book. The colorful illustrations follow a young boy and girl from the costume store, through their trick-or-treating adventures, and into a gloomy graveyard and spooky haunted house. All of the characters are dressed head to toe in the Halloween spirit, so be aware that your reader may finish the book with a new costume idea. Knock-knock jokes fill every page, some with interactive lift-the-flap answers.
?


"One Spooky Night: A Halloween Adventure"
By Kate Stone
Accord Publishing, 2011
$11.99
An imaginatively spooky, yet not too scary story follows a brave little monster as he makes his curious way along a path in the strange forest. He encounters all sorts of sights, including hoot owls, grinning pumpkins and even floating ghosts as he travels to his destination. Intricately cut pages overlaid with shadowy vellum create a spooky setting that lures readers to continue at the turn of each page, ultimately to arrive at a surprise ending. It's a story that is sure to put everyone into the Halloween spirit.
?

Tweens



"The Case of the Graveyard Ghost"
By Michele Torrey
Illustrated by Barbara Johansen Newman
Sterling Publishing, 2009
$6.25
Science detectives Drake Doyle and Nell Fossey are at it again with four mysterious cases that will keep your problem-solver engaged in reading throughout the Halloween season. Now in fifth grade, Doyle and Fossey have yet to come across a case too difficult to solve. This time they must face the mysteries of a noisy cupboard, white roses that have turned an ugly color, a greedy ghost, and the smuggling of a pet store's endangered parrots. Each of the four stories ends with the explanation of a science concept and includes activities and experiments to keep your child active even when they are finished reading.
?

For the Family



"The Dog Who Saved Halloween" DVD
Anchor Bay Entertainment
$19.98
Favorite four-legged friend, Zeus, and his two-legged family, the Bannisters, are back in "The Dog Who Saved Halloween." Following the hugely-popular "The Dog Who Saved Christmas" and "The Dog Who Saved Christmas Vacation" DVDs, the new release joins George, Belinda and their kids, Kara and Ben Bannister, as they move into a new house – just in time for Halloween! Everything seems to be fine until they notice eerie glowing lights and strange sounds coming from their neighbor's house where creepy Mr. Cole lives with his protective pooch, Medusa. After going to investigate the house next door, the Bannisters get trapped inside, and once again it's up to Zeus to save the day. ?
Costumes


Into the Wild
Animal Planet introduces some adorable infant and toddler costumes for Halloween this year, including the chimpanzee, lemur, lovebird, polar bear, rhinoceros and zebra. Each costume is a lined jumpsuit with attached character hood made from chenille or corduroy. Costumes have attached mittens and snap-closure legs for diaper-changing convenience. Costumes are available at Party City or at HalloweenCostumes.com.
$34.99-$49.99.
??