How to Survive with Kids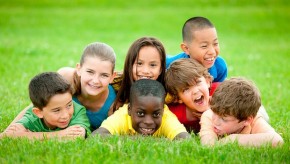 Just as DIckens wrote in A tale of Two Cities, living with kids can be described as "It was the best of times, it was the worst of times." Of course the best times are the smiles, the hugs, the laughter, and the memories. The worst of times can encompass a myriad of things. Here is a quick survival guide to surviving with kids at home:
1. Childhood Injuries – Use padded ottomans instead of hard coffee tables with pointy corners, use carpeting on stairs, eliminate corded window treatments to prevent strangulation, keep medicines and toxins in upper cabinets, keep fresh batteries in smoke and CO2 detectors,set your water heater to 120 degrees, and use an alarm at swimming pools.  
2. Leaving toys all over the house – Provide decorative baskets and bins for them to store their toys when they are done playing. Before bedtime, if anything remains on the floor it goes into a large trash bag and put in the attic for a month. They will either learn to put their toys away or won't have any toys left. EIther way you lose the mess!
3. Fighting with siblings – This is as natural as the sun rising in the east, but if you create a space at home where each child can establish boundaries and have quiet time things will settle down rather than escalate. A book corner is an ideal solution, just make sure there is comfortable seating and age appropriate materials for each child.
4. Chores – Teach them from an early age that every family member must contribute to the smooth functioning of the household. Create a chore chart and list age appropriate chores for each child. There are hundreds of ideas for charts on Pinterest. It you want to raise a true capitalist you can use the chart that clips a dollar to every chore that needs to be done!
5. Sharpie Art – It may be called permanent marker, but you CAN remove it from different surfaces using the following methods: Leather – blot with hairspray, microfiber –  blot with peroxide, fabric – blot with nail polish remover, walls – use a sponge and whitening toothpaste (not the gel.)
Do you have any other survival tricks for life with kids? Please share them in the comments section below.
Barbara Green is the owner of Sensibly Chic Designs for Life and the host of Ask the Design Diva radio show. She believes you CAN have it all: kids, pets, and a beautiful home! Visit her shoroom located at 830 Lamar Avenue in Charlotte or call her at 704-608-9424.