How to Spot a Carolina Panthers Fan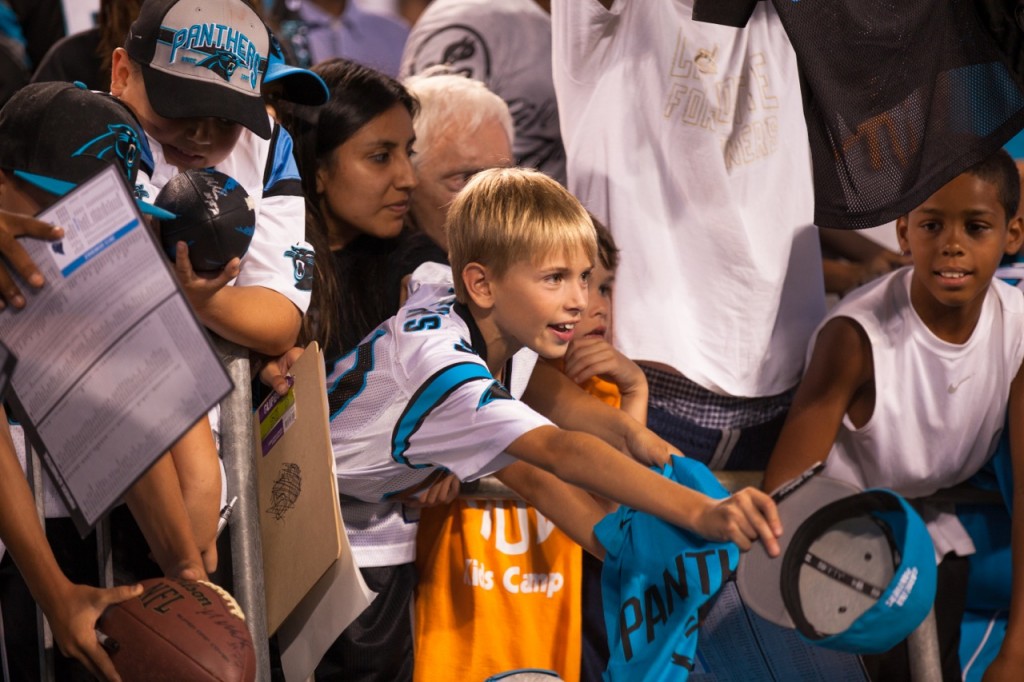 The Carolina Panthers may have just celebrated their 22nd birthday, but as one of the NFL's youngest franchises, the team has managed to amass a fan stronghold that rivals any. Panthers pride can be felt worldwide as the tenacious team approaches its second Super Bowl appearance on Feb. 7, 2016, against the Denver Broncos. Like most teams, the Panthers have developed unique traditions over the years, but here are a few telltale signs that you are in the presence of real Panthers fans:
"Keep Pounding" is part of their everyday vocabulary, and it has nothing to do with tools. The phrase "Keep Pounding" was first used in a heartfelt speech given by Sam Mills, Jr., former Carolina Panthers player and assistant coach, the night before the team met the Dallas Cowboys in the 2004 playoff. Mills, Jr. asked the players to "keep pounding…on offense, on defense, on special teams, on every single play and in life." The words "Keep Pounding" have been engrained in the Panthers' culture ever since. Mills, Jr., who passed away from cancer in 2005, left a lasting legacy—one that inspired the creation of the Keep Pounding Charity and continues to inspire the team. Learn about the legacy of Sam Mills, Jr. and "Keep Pounding."
When they yell "LUUUUKE," they're not talking about Skywalker. The hashtag #LUUUUKE continues to gain popularity on Twitter, Instagram and other social channels as the love for the Carolina Panthers "gentleman" linebacker, Luke Kuechly, continues to grow. Check out Charlotte-based 704 Shop's limited edition #LUUUUKKE shirt.
They're pros at dabbing. The wildly popular dance craze, introduced by Carolina Panthers Quarterback Cam Newton when he celebrated scoring a touchdown early in the season, has taken the country by storm. From retirement home residents to elementary school classes, Panthers fans of all ages and from all over are dabbing in support of the Super Bowl-bound team. According to NFL writer Will Brinson of cbssports.com, the dab phenomenon originated in Atlanta (Newton's hometown) before the football season started, with multiple rap groups dabbing in music videos. See Newton show FOX Sport's Erin Andrews how to do the dab.
Their favorite superheroes are "Super Cam" and the "Catman." Carolina Panthers Quarterback Cam Newton is known for his eccentric celebrations in the end zone. Owing to a signature move where he pretends to rip open his shirt like Superman, he has been dubbed "Super Cam." "Catman," a fan who stands 7-feet tall (with his electric blue hair aiding that), has been decked out in black and blue attire that includes his very own cape since 1998. He takes hundreds of pictures with fans at every game, and the NFL even created a limited-edition bobblehead in his honor. View Super Cam: Newton's Case for MVP.
"Creedbombing" is their prank of choice. Carolina Panthers linebacker Ben Jacobs invented a national prank sensation when he started "Creedbombing" teammates on the practice field and weight room and then shared it on Snapchat. A play on "photobombing," "Creedbombing" involves looking someone directly in the eyes and singing random lyrics from the 1990s band Creed. Hear Creed lead singer Scott Stapp, now a Panthers fan, discuss "Creedbombing."
"Coach" Braylon Beam works fan magic on Ellen DeGeneres. The inspirational 6-year-old battling brain cancer has served as an honorary coach for the Panthers and has made two appearances on the "Ellen" show, including one when he tried to convert her to a Panthers fan.
Young Panthers fans get touchdown footballs. The "Sunday Giveaway" movement, started by Newton, has made lucky kids the recipients of his touchdown-scoring footballs. The kids' reactions, which are often caught on television, are priceless and a sign that they're sure to be Panthers fans for life.
Petey Pablo releases "Carolina Colors." The rapper and Greenville, North Carolina, native released "Carolina Colors," an anthem for the Carolina Panthers, ahead of the NFC Championship game against the Arizona Cardinals.
The Tuohy Family of "The Blind Side" supports the Panthers. Leigh Ann and Sean Tuohy, adoptive parents of Carolina Panthers left tackle Michael Oher and the family who inspired the 2009 movie "The Blind Side," are cheering on the Panthers. Two years ago, Oher got a Super Bowl ring when he won with the Baltimore Ravens and he's looking to get a second.
Other famous Panthers fans include NBA MVP Stephen Curry, Charlotte Hornets Owners and Basketball Hall of Famer Michael Jordan, NASCAR Legend and Hall of Famer Richard Petty, six-time NASCAR champion Jimmie Johnson, model and actress Brooklyn Decker, and more.
This is a seven-part series leading up to Super Bowl 50 brought to you collaboratively by the City of Charlotte, Charlotte Center City Partners, the Charlotte Chamber, the Charlotte Regional Partnership and the Charlotte Regional Visitors Authority. This series features facts and information about the Carolina Panthers' hometown of Charlotte, North Carolina.