How to Prep for a Trip to the Pediatrician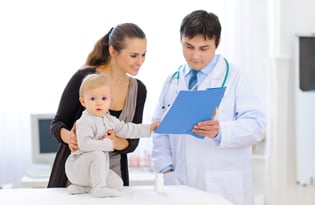 The American Academy of Pediatrics recommends 24 preventive care visits between birth and age 18, plus any potential sick visits. Here are three easy steps for being prepared and making the most of all these visits.
Get Ready
Before heading out, pack the essentials: insurance card, identification, and any forms you need completed, such as school forms. If you are new to a practice, bring prior records. Be ready to list any prior diagnoses, surgeries, hospitalizations and allergies. Bring a list of medications with current doses, including supplements, so your provider can look out for potential side effects or interactions.
Consider bringing a symptom log if your child is being seen for an ongoing problem like headaches. Include when the symptom occurs, severity, associated symptoms, and whether anything makes it better or worse. This can often help your provider identify a pattern that can guide diagnosis and treatment. Finally, make a list of any questions that you might have for your provider.
Set Expectations
Pediatric visits are divided into well and sick visits. During a well visit, your child will have age-appropriate screenings done and may receive vaccinations. Be active in communicating your concerns. This is the time to ask questions related to development, such as "What should my child do over the next month?" or "How do I potty-train?"
Sick visits tend to be shorter and focused to address a specific symptom or illness. Sometimes a diagnosis is made in one appointment, but multiple appointments may be needed to fully address chronic issues such as obesity, asthma, or ADHD. Medical emergencies and unplanned procedures and treatments can slow down a clinic schedule, however, you can usually expect medical staff to provide your child with their undivided attention while in the exam room.
Ask Questions
Be an active communicator. Don't be afraid to ask for clarity on topics that you do not understand. Consider asking:
What is the name of my child's diagnosis? 
Why is this treatment important? 
How do I give this medication? 
Are there side effects? 
What are the risks or benefits of this treatment? 
Repeat any instructions back to your provider to ensure that everyone is in agreement on the care plan and you feel confident in understanding your child's health.
TIP: Pack snacks, drinks and a favorite blanket or toy to make waiting for your appointment easier on you and your child.
Dr. Sarah Drennan is a pediatric resident at Levine Children's Hospital at Carolinas Healthcare System and Dr. Shivani Mehta is a board-certified pediatrician at CHS Myers Park Pediatrics Clinic.
WATCH: WCCB News Rising
Charlotte Parent executive editor and publisher Eve White prepares parents for visits to the pediatrician.