How to Make Your Child's Birthday Special When it Falls in the Middle of the Week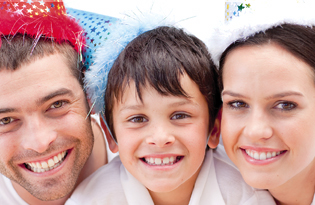 Your child's birthday is just around the corner, and he's having fun planning his big party. But then he realizes his birthday falls in the middle of the week. Even though the party can't be scheduled on his exact birthday, here are some ways the family can make the actual day special and unique.
Keep the 'Birth' in Birthday
How often do you tell your child how glad you are he was born? Here are some ways to let him know how special he to you:
Pull out the baby pictures and reminisce about all the cute things your child did. Tell favorite stories about family moments.
Create a list of all the things you like about your child. Read the list at the dinner table.
Let your child plan the menu for dinner on his birthday each year. Keep a record of the meals, and as the years go by, you can talk about how your child's tastes have changed from birthday to birthday.
Let your child pick out the birthday cake. Take a picture of the cake, and save these from year to year to reminisce. Start a scrapbook on birthday fun.
For younger children, create a special hat or badge to wear on the special day, artistically made by Mom or Dad!
Make and give your child "coupons" that allow him special opportunities, such as a movie date with Mom or an ice cream date with Dad.
Conduct a Birthday Interview
We appreciate the memories that make our families unique. They are the instant replay of shared times together and of times that give us a sense of belonging. Every year when one of my children's birthdays comes around, I conduct a mini interview on audiotape. I ask questions like, "What would you like to be when you grow up?" and "Tell me about our family."
You also can ask your child to tell you about school, vacations, and other significant events. Date and save these interviews from year to year. (My kids think their responses from younger years are hilarious!) As a variation, use a camcorder and videotape the interview — a picture is worth a thousand words.
Make Dinnertime Special
Mealtimes are the perfect time to capitalize on family camaraderie. Here are ways to make the evening a bit more special:
Put disposable cameras on the table for everyone to take candid shots at the family birthday dinner.
Use white butcher paper for the tablecloth and set out cups of crayons. Make pictures and doodles that are special to your child.
Serve food in the same quantity as your child's new age. For example, if your child just turned 5, serve five apple slices, 5 cheese chunks and 5 carrot sticks.
Collect Birth-Year Coins
Look through your pocket change and find coins dated with the year of your child's birth. Glue the coins to a piece of felt to make a mini-banner. Display the banner — with new coins added yearly — on your child's bedroom door for his birthday.
Create a Trail to the Treasure
Using construction paper, cut out several pairs of footprints by tracing around your child's shoe. During the day (or night before), tape these to the floor. When it's time for the gifts, have your youngster follow the footprints to where his presents are hidden. Tracking in and out of several rooms is really fun.
No matter when or how your child celebrates a birthday — whether it is alone with the family or with a big birthday bash — what he will enjoy and remember most are your gifts of love, time and attention.
Tania Cowling is a mother, author and former teacher, who lives in Plantation, Fla.