How to Cook a Holiday Turkey to Perfection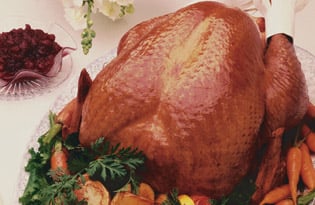 Thawing Your Turkey
It is unsafe to thaw a frozen turkey at room temperature. Two safe ways to thaw your turkey are in the refrigerator or in cold water. See the chart below for estimated thawing times. Whether you have a frozen or a fresh turkey, cook it within 1 or 2 days of purchase or after thawing.
In the Refrigerator (40 F or below)
Allow approximately 24 hours for every 4 to 5 pounds.
4 to 12 pounds    1 to 3 days
12 to 16 pounds    3 to 4 days
16 to 20 pounds    4 to 5 days
20 to 24 pounds    5 to 6 days
Keep the turkey in its original wrapper. Place it on a tray or in a pan to catch any juices that may leak. A thawed turkey can remain in the refrigerator for 1 to 2 days. If necessary, a turkey that has been properly thawed in the refrigerator may be refrozen.
In Cold Water
Allow approximately 30 minutes per pound.
4 to 12 pounds    2 to 6 hours
12 to 16 pounds    6 to 8 hours
16 to 20 pounds    8 to 10 hours
20 to 24 pounds    10 to 12 hours
Wrap your turkey securely, making sure the water is not able to leak through the wrapping. Submerge your wrapped turkey in cold tap water. Change the water every 30 minutes. Cook the turkey immediately after it is thawed. Do not refreeze.
Cook It Your Way
No matter which method you use to cook your turkey, use a food thermometer to insure that your turkey and stuffing are cooked to a safe minimum internal temperature of 165 ?F. Check the internal temperature in the innermost part of the thigh and wing and the thickest part of the breast. For reasons of personal preference, consumers may choose to cook turkey to higher temperatures.
These times are approximate and should always be used in conjunction with a properly placed thermometer.
Approximate Whole Turkey Cooking Times:
Times for fresh or thawed turkey in a preheated 325 degrees F oven
Weight………………Unstuffed Timing………..Stuffed Timing
8 to 12 pounds……2 3/4 to 3 hours…………3 to 3 1/2 hours
12 to 14 pounds….3 to 3 3/4 hours…………3 1/2 to 4 hours
14 to 18 pounds….3 3/4 to 4 1/4 hours……4 to 4 1/4 hours
18 to 20 pounds….4 1/4 to 4 1/2 hours……4 1/4 to 4 3/4 hours
20 to 24 pounds….4 1/2 to 5 hours…………4 3/4 to 5 1/4 hours
Electric Roaster Oven
Generally, the cooking time and oven temperature setting are the same as for conventional cooking. Preheat the oven to at least 325 degrees F. Place the turkey on the roaster oven rack or other meat rack so the turkey is raised out of the juices that collect in the bottom of the oven liner. Leave the lid on throughout cooking, removing it as little as possible to avoid slowing the cooking process. Always check the roaster oven's use and care manual for the manufacturer's recommended temperature setting and time.
Grilling a Turkey
Outdoor cooking of a big bird for the holiday meal is becoming a popular cooking method. During grilling, a turkey cooks by indirect heat in an outdoor covered gas or charcoal grill, and a pan of water is placed beneath the grilling surface to catch the fat and juices that drip from the turkey as it cooks. Cooking is done by the hot, smoky, steamy air.
Turkeys that are 16 pounds or less are the recommended size for safe grilling. A larger turkey remains in the "Danger Zone" – between 40 and 140 degrees F – too long. Do not stuff the turkey. Because cooking is at a low temperature, it can take too long for the temperature of the stuffing to reach 165 degrees F. Also, smoked stuffing has an undesirable flavor.
More Ways to Cook a Turkey
Deep fat frying, smoking, using an oven cooking bag, roasting in aluminum foil, microwaving, using a pressure cooker, and cooking a frozen turkey without thawing it first are other ways to get the big bird done. For information about these methods, call the USDA Meat and Poultry Hotline or read the publication "Turkey: Alternate Routes to the Table." 
Related Links: 
Top 5 Thanksgiving Cooking Apps
3 Great Thanksgiving Books for Kids
How to Raise Thankful Children