How to Choose the School for Your Family
Tips for sorting through Charlotte's public school opportunities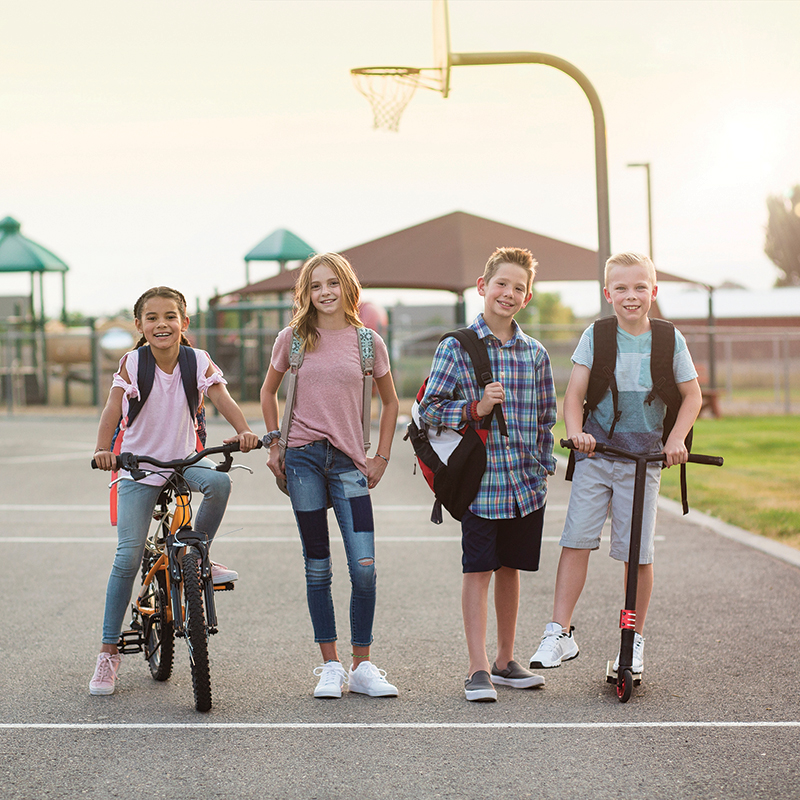 Sending a child off to school for the first time can be a challenging experience. Factor in the number of choices, and the process can be quite confusing. Each child has specific needs, and it is important to choose the school that suits your child's learning style, as opposed to following the lead of those who have gone before you.
---
What's in a Program?
Some schools, like Montessori programs, encourage families to adhere to the same sorts of philosophies at home in order to maintain coherence in each facet of life. Magnet programs, such as learning immersion and talent development, may require extra out-of-school work time. Some schools, like the Basic School, allow for more time outside with unstructured play, while STEM programs focus on technology and technical sciences.
Special Programming
Support for gifted and talented students, as well as special education services are important to consider. Will your child be interested in extracurricular activities before or after school? Many schools offer performing arts, STEM-related activities, sports, Girls on the Run and other activities. While you may not know what your kindergartener's interests will be later, being aware of what schools offer can be helpful as kids grow older.
School Logistics
Depending on your schedule and your child's, logistics like school start times and transportation matter. Some schools start as early as 7:45 a.m. and others as late as 9:15 a.m. Some charter schools in the area stagger bell schedules for upper and lower grades, which is something to consider if you have multiple children.
Transportation may play into school choice as well. Charlotte-Mecklenburg Schools is divided into transportation zones that allow for transportation to neighborhood schools and magnet schools within their zone. Some charter schools provide transportation or limited transportation from an outside company at limited stops.
Understanding Numbers
While data for schools can appear up front, often times it can be misleading. Data for North Carolina schools, including charter schools, can be found online through NC Report Cards. School report cards offer an in-depth look at end-of-grade test scores, attendance, finances, teacher qualifications (most charters do not require teachers to be fully licensed when hired) and student behavior/intervention, among other things.
When looking at student behavior and intervention, it is important to note that a school with less incidents is not always accurate, as fewer may have been reported than at other schools. Likewise, a school with high reported incidents can indicate a low-tolerance policy for offenses, and that students and families are held accountable.
Teacher turnover rate can be another misleading factor in school choice. Younger teachers traditionally stay in a given job from three to five years, which can hurt turnover rates while not being a reflection of a school's sustainability. Schools with low turnover rates can be a sign of complacency.
Touring and visiting a school allows you an opportunity to question school administration more about these issues.
---
Education Philosophies
While area school systems' neighborhood schools can be a good choice, very specific curriculums and education philosophies can be found via Charlotte-Mecklenburg Schools' magnet programs or at local charter schools. Magnet programs include Montessori, learning immersion and talent development, visual and performing arts, and language immersion, in addition to others. Charlotte-Mecklenburg Schools helps guide parents through the magnet choices through the website cmschoice.org. The website offers charts to show the philosophies offered, the schools adhering to these philosophies, and the transportation zones associated with each program. Enrollment for magnet programs begins at the end of the calendar year preceding the next school year.
---
Tour the School
What you see online and hear from others only gives a window into how a school functions. By touring or attending an open house, you can get a more comprehensive look at how a school operates, especially if the tour is done during the school day, which allows you to observe teachers in action. You can see the set-up and style of classrooms, and talk to principals, administrators and teachers to address specific concerns you may have.
---
Enrollment Processes
Charter Schools
After attending an open house of the charter school of your choice, reach out to the school for their specific application process. Most have an online application and operate under a lottery system. After filling out the application, your student is given an identification number. Once the lottery takes place (some in person), parents are notified of their child's admittance or spot on the wait list. If you are waitlisted, don't lose heart. Not all who are admitted accept their spot. Most of these lotteries take place between February and March each year with applications closing in January, so start early to make sure you meet the deadlines.
Charlotte-Mecklenburg Schools
To register with a neighborhood school in the Charlotte-Mecklenburg Schools system, each student must fill out a new student enrollment form found on the Charlotte-Mecklenburg Schools website, as well as a birth certificate, proof of residency and immunization records. You may take these to your local school and enroll at any time.
To be considered for kindergarten, your child must be 5 years old on or before Aug. 31 of that school year. For Montessori prekindergarten, your child must be 4 years old on or before Aug. 31.
Charlotte-Mecklenburg Schools Magnet Programs
The application process for magnet programs and school options other than your neighborhood school in Charlotte-Mecklenburg Schools typically begins in November of the year preceding the next school year. There are three lotteries, but it is recommended to apply in the first round of the lottery as spots fill quickly. Lotteries are anonymous, though factors including a family's socioeconomic status and previous years spent in an underperforming school are considered. Siblings in almost all circumstances get priority seating if applications are filled out by the given deadlines. Students have priority for school options and magnet programs in their transportation zone. Learn more at cmschoices.org.
---
Liz is a freelance writer specializing in narrative non-fiction and a somewhat-sane mother of three. When free time is a thing, she enjoys yoga, perfecting vegan baking and running @restorationwaresvintage while her children and overly protective German Shepherd run circles around her.