How to Build a Better Morning Routine
Advice for parents raising kids at varying age ranges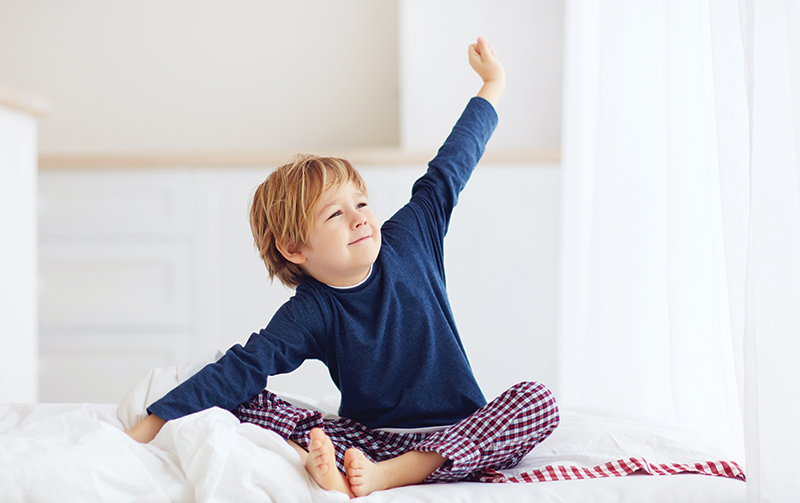 Back-to-school season brings new backpacks, fresh school supplies, and the return of the morning rush. We aim for a strong start to the day, only to often end up with school mornings snarled in stress. Thankfully, there's a better way, but you may need a new approach. The key: choosing manageable, age-appropriate goals that build kids' time-management skills and gradually increase their autonomy. Read on for expert-approved strategies aimed at calming the morning rush.
Early Years
Model Mornings
Establishing a steady, manageable morning routine is good for everyone in the family, even kids who haven't yet started school. Decide on your morning routine along with one or two morning self-care tasks for your child to practice, such as dressing, hair combing or putting on shoes. Some children may even be able to pour cereal and milk, butter toast or complete small morning chores like feeding pets. Just don't expect speed or perfection.
Model the morning behavior you'd like your child to learn. If calm, pleasant mornings are your goal, adopt that attitude yourself.
"If you scream, yell, run and throw stuff in the morning, your children will associate mornings with screaming, yelling, running and throwing stuff. They will simply think that this is what mornings should be like," says educational psychologist Oksana Hagerty, Ph.D., assistant director of the Center for Student Success in at Beacon College in Leesburg, Florida. "Remember, learning to do things right always comes before learning to do things fast."
When morning stress does strike, take a few deep breaths to calm yourself before sharing your distress with your child.
Elementary Years
Lunch Land
Your grade-schooler opts for hot lunch, but then asks for a PB&J minutes before the bus arrives. Your 11-year-old is supposed to pack her own lunch but doesn't remember until it's time to leave for school. Sound familiar? School lunch struggles can ruin even the best-laid morning routine, but you don't have to surrender. A little advance planning can simplify lunch packing and keep mornings on track, says Lisa Richardson, clinical dietician and owner of Carolina Family Nutrition in Chapel Hill, North Carolina.
"Sitting down to plan a bit before the school year starts can go far in keeping lunch choices healthful," she says.
Keep things simple and think like a school menu planner. "Make a rotating two-week menu that you use for the entire semester, with just 10 different lunches. These don't need to be complicated! Think protein, carb, fruit and a vegetable, and stick to foods you know your child will eat," Richardson says. "Or families can assign a theme to every weekday, like breakfast for lunch on Monday, taco Tuesday, chicken on Wednesday, cheese and crackers on Thursday and sandwiches on Friday."
Another strategy: Make lunches the previous evening during dinner preparation or cleanup instead of just before bed, when everyone is tired and more likely to forget.
Teen Years
Out the Door in a Hurry
According to the National Sleep Foundation, teenagers' biorhythms push them to stay up later and sleep in, and school start times are often earlier for teens than younger children. This gives a new urgency to the morning rush since your tired teenager may need to be out the door earlier than the rest of the family.
Streamlining a teen's morning routine can help maximize sleep, minimize stress and help him make it to his first class on time. Establish a habit of making morning decisions the night before, Hagerty says.
"Mornings are not the time to take decisions; mornings are for their implementation."
High-protein, grab-and-go breakfasts can help teens get needed nutrition in a hurry. A high-protein breakfast also can help a teen feel fuller, longer, and can help him manage his weight, Richardson says.
Grab-and-go items like slices of ham or turkey, Greek yogurt, fruit, boiled eggs, peanut butter, cottage cheese, and high-protein muffin and pancake mixes can be prepped for quick weekday breakfasts. Even an apple and a slice of cheese while going out the door can give a teen energy for the morning.
Malia Jacobson is a nationally published health and family journalist.