How Running Empowers Girls
Iconic athlete Kathrine Switzer on taking risks, running and helping kids dream big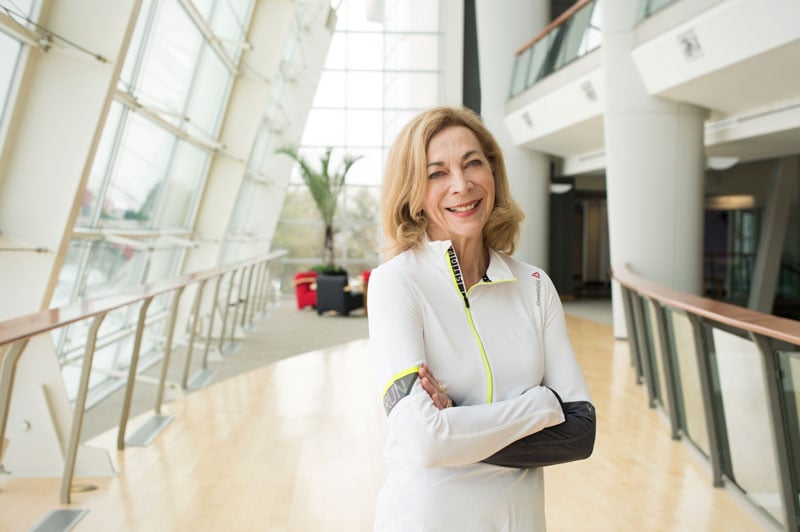 Kathrine Switzer was 20 years old and a student at Syracuse University when she ran the Boston Marathon. It was April 1967, and she was the first woman to run the race wearing a number. As Switzer tended to do on a regular basis, she used her initials for the registration form. The form did not ask her gender. At that time, women could not officially run in marathons. It was believed that they were too weak and fragile to run a marathon distance. Myths about developing facial hair and large thighs kept women from getting interested in the sport.
Switzer wanted to prove to her coach and herself that she could do it. She was hoping to be inconspicuous and fly under the radar. Unfortunately, an overzealous race official noticed that Switzer was a woman and attacked her; trying to pull her off the course. She persevered, stayed in the race and finished the marathon in four hours and twenty minutes.
The incident was caught on camera by a nearby press truck, and it became national news. Switzer's life was forever altered. She decided to dedicate her life to running and advocating for women in sports.
Switzer trained as a serious runner, and in 1975 was the sixth fastest marathon runner in the world. She followed her dreams to be a sports writer and was instrumental in the inclusion of the first women's marathon in the Olympic Games in 1984.
When Switzer isn't training for the 2017 Boston Marathon, the 50th anniversary of her first fateful marathon, she travels the world promoting her nonprofit organization, 261 Fearless (Switzer's race number was 261 at the 1967 Boston Marathon). Its mission is "to bring active women together through a global supportive community – allowing fearless women to pass strength gained from running and walking onto women who are facing challenges and hence sparking a revolution of empowerment."
In an interview with Switzer, she shared wisdom she has gained from her experiences, and advice for girls who want to run or have athletic pursuits.
---
When you were 12 years old, your father encouraged you to run. What did running at that age do for you?
A daily run gave me a sense of empowerment that was overwhelming. I felt so accomplished and special, like I had a secret weapon that nobody could take away from me. It was like a victory. Everyday I ran, I felt more and more confident. I built my distance. I made the [field] hockey team. I made the basketball team. Pretty soon I felt like I could do anything. I felt like I could take on greater and greater challenges.
You said that your parents encouraged you to take risks, have big dreams and have a good opinion of yourself. How can parents do that for their children in today's society?
I was a pretty froggy kid — you know skinny, had frizzy hair, wore glasses. There wasn't a day in my life that my parents didn't tell me that I was great. They would say, "You can do anything." The times that I was criticized, it was always constructive criticism. I was a pretty good kid, but if I did misbehave, they were firm and always fair.
You cannot encourage your kids too much. Listen. Make them feel special. If you have a lot of kids, give each kid time alone with you. One of the greatest things ever in my life, in our family was that every single night, we sat down and had dinner together. That was critical. No TVs, no phones. We talked with each other and discussed issues.
Why is it important for girls to run?
It is something they can absolutely do by themselves with their own body, without equipment, without pressure, without coaching, without spending any money. No judgment, they can run fast, they can run slow, run long. They can get an immediate transformational sense of empowerment. Running is really magical that way. It is a victory that no one can take away from them. They feel like, "Hey, I am significant, I count. I am really proud of myself."
What are the benefits of running for girls?
Good health, sense of self-determination. They are better organized. My dad wanted me to play sports because he knew I would become a better student. People who want to organize sports in their day have to have an organized day. Those are great traits to take into life and into business. Also, running builds muscles, coordination and it is a great platform for other sports.
What advice would you give parents who have girls who want to run?
First of all, if they want to run and are young, I would encourage them to join something like Girls on the Run, a club or a team; be part of a community that is fun and supportive. I would not isolate them and have them run alone. I would not focus on how many miles they need to run or how fast. Just get out there and have fun.
What would you tell coaches about working with girls?
Girls can be competitive and can be very social. One of the best things is to create a positive community and have them work together, which is the philosophy of Girls on the Run. The team spirit produces one athlete plus one athlete equals five athletes. If you create an adversarial position with them, you are not going to get as great of results.
For moms and dads who may want to start running, what tips do you have for them?
Taking the first step for anything new in life is extremely difficult. Just get out of your rut and start. Find a buddy. Women especially train really well when they have someone who is waiting for them. You will get out there even if it is dark and rainy. If you can't find a training buddy, get a dog.
You always feel better having done a run than not. You deserve to feel great. Women think they have to do the dishes first, take care of the kids or clean the house. It will all wait. You deserve this for yourself.
​Vanessa is a freelance writer and mom to three boys. Follow her on Twitter @morethanvmi.