How Old is Old Enough?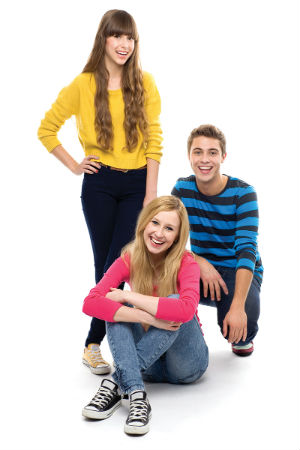 Raising teens involves a series of daunting milestones. They're no longer babies, but they're not prepared to decide what's best for themselves, either. We asked local health care professionals — all of them also parents — for advice on determining what age kids may be ready for new privileges that are part of growing up.
Bedtime
Adhering to bedtimes can be difficult because kids don't want to miss out on anything, says Kate Paquin, mother of three teens and founder of A Family Coach, a support service for families in Apex.
"Once they're in high school, they should be able to self-monitor this. Until then, consider their activities, amount of homework and mood," she says. "I'd set a range of 8-8:30 p.m. for kids in elementary school and 8:30-9 p.m. for middle-schoolers."
Leslie Petruk, director of The Stone Center for Counseling and Leadership in Charlotte, has children who are 11, 14 and 17. Her 17-year-old is a night owl, and Petruk agrees about giving older kids leeway, even if it means learning the hard way.
"My daughter is learning the consequences of staying up late," Petruk says. "We just had a conversation about how she's going to regulate her sleep when she goes to college. I'm letting her learn from her decisions and then talking to her about it."
Cooking
Petruk and Paquin say safety talks about cooking, first aid and other household activities are a good place to start as kids grow older.
"My daughter was 15 before I'd let her do anything other than microwave without being there," Petruk says. "It's about the responsibility your child has, understanding that you can't leave a pot of boiling water. I'll let my 11-year-old cook, but only with supervision."
Paquin taught her child about first aid and extinguishing a fire during her tween years.
Home Alone
Limitations and expectations are essential, the experts agree.
"I'll leave my 17-year-old with my other two and I tell her I don't want them in front of the TV the whole time," Petruk says.
"This depends on the child and where you live," Paquin says. "Short daytime hours with rules of no stove or candles should be OK around 9-10 years old. I always said no showering when a parent is not home, and only use the microwave to cook. Most accidents happen in the bathroom, so it's a good idea to wait until a parent is home."
Safety is an emphasis in the home of Dennis Campbell, vice president of nursing and patient services at Cone Health Behavioral Health Hospital in Greensboro. His daughters are 14 and 16, and his son is 18.
"I had all three of my kids take a CPR course when they were 12, 14 and 16," he said. "After that, we'd leave them at home for an hour or two and then check on them. If we were going to be out later, we told them they had to be in bed by a certain time."
Babysitting
When Petruk's daughter expressed an interest in babysitting as a teenager, she enrolled in a YMCA babysitting course. They also discussed scenarios such as accidents and how her daughter would handle them.
All three of Campbell's children have babysitting experience, he says.
"I think probably between the 12- and 16-year-old range, depending on their maturity level, if they're able to recognize when something's out of the ordinary, that's OK," he says.
Cell Phone
Though cell phones have become integral to society, they put the adult world at a child's fingertips.
"There's a study (from the Henry J. Kaiser Family Foundation in California) that shows that because of smartphones, the average age that kids are exposed to pornography is 8," Petruk says. "My 17-year-old was the last in her grade to get one, and we still have Find My Friends (a GPS app), so we know where she is at all times."
Paquin suggests trying a shared phone.
"If the child has an activity where you drop them off — dance, sports, karate — start with a family phone, but make sure they know it's yours that they use from time to time," she says. "If they show you responsibility and maturity, you can decide if they get their own phone."
Driving
While some teens are ready to hit the road with a learner's permit at 15, which may instill a newfound sense of freedom, others feel anxious about getting behind the wheel. Never coerce a teen into learning to drive, our experts say.
"My son took the course at 15, obtained his learner's permit at 16, and he finally got his license at 17," Campbell says. "My daughter, who's 16, won't take the course until this summer. She told me, 'I'm not ready for this yet,' and that's fine. But I also have a 14-year-old who's ready to go as soon as she turns 15."
Curfew
Age, maturity and specific circumstances are factors to consider when establishing curfews.
"I know where my daughter is at all times," Petruk says. "I'll say, 'You can't just go to the mall and hang out; you have to have a plan.' If she's at a friend's house, I know the parents, so I'm OK with letting her stay later. I base these things case-by-case."
Campbell asks that his 18-year-old be home by 11 p.m.
"He's still in school, and we do that simply because unless you're staying the night at a friend's, I don't think there's anything out there for an 18-year-old to be doing after 11 o'clock," he says. "My other two kids, 14 and 16, are home by 9 p.m."
Dating
Candid conversations are crucial when it comes to dating. "Asking (vs. lecturing) your teenage son what values and responsibilities he believes comes along with dating," Petruk says. "Setting guidelines that are in line with your family values and the "sex" talk is always an important discussion to have with your son as he beings dating."
Ask them how they feel about themselves, Paquin says.
"Girls with low confidence tend to be sexually active earlier," Petruk says. "An average age to go with a group to a public place like the movies or bowling may be 15, but I would avoid houses, as everyone supervises differently."
For seeing someone on a regular basis, she says16 is a good guideline, but keep in mind that age can be subjective. "It is more about mental age than their number of days on earth," Paquin says.
Getting a Job
Working can be a great way for teens to learn responsibility outside of home and school, but school should always come first.
"It's about maintaining grades and what's reasonable," Petruk says. "It's great to establish this when they're still at home, because they're learning how to manage their time and be responsible."
Campbell agrees that balance is essential.
"Children are transitioning into adults, and I don't believe they should work every day, but to understand interaction with people, learning how to deal with money, maybe at 16, is appropriate, as long as they're not too busy with after-school activities and those kinds of things."
Because all children are different, there's no definitive formula for making decisions about these milestones. Asking for your child's thoughts and sharing your insights may help foster not only a better relationship, but a series of confidence-building steps toward becoming a responsible adult.
---
Tammy Holoman is a freelance writer from Winston-Salem.