How Healthy is Your Child's Room?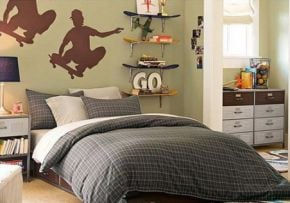 Children spend a lot of time in their bedroom. Did you know that studies show some health problems such as allergies and autism can be attributed to dangerous compounds that are found in some home products? If you want to optimize your child's bedroom for health, keep these things in mind:
Use No- or Low-VOC paint. VOC's (volatile oganic compounds) are gases emitted from paint that cause respiratory distress and some believe contribute to the meteoric rise in autism. 
Remove wall to wall carpeting and replace with hardwood floors. These will be much easier to keep clean and help improve air quality.
Choose natural latex pillows and mattresses. They are allergy proof and don't emit toxic gases. Synthetic foam or polyester pillows and mattresses are made with over 71 chemicals that are toxic to humans and can cause headaches, nausea, eye and throat irritation.
Select organic cottom, hemp, or bamboo sheets and comforters. Gallons of water and pesticides will be saved and a healthier product will be next to your child's skin.
Purchase sustainable, real-wood furniture finished with GreenGuard instead of particle board or composites that are pumped with harmful chemicals.
Unplug electronic devices to avoid electromagnetic fields which can cause damage to your child's brain.
When cleaning, use natural products like vinegar, lemon juice, baking soda, and steam.
Following these guidelines when decorating your child's room will help you create a safe sanctuary that encourages rest, relaxation, and good health.
Barbara Green believes you can have it all: kids, pets and a beautiful home. She is the owner of Sensibly Chic Designs for Life and the host of Ask the Design Diva radio show, and insists you don't have to spend a million dollars to look like you did.