How dangerous is your bed?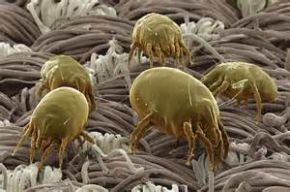 Dust mites and bed bugs may hit the news regularly, but the dangers of your bedding go much deeper than creepy crawlers. Standard mattresses are made from petroleum products and are full of harmful chemicals. These chemicals can cause a host of problems for your family including allergies, asthma, and other respiratory issues. Microbiologist Philip Tierno, PhD states "I can think of no single place that challenges a person immunologically day in and day out more than a mattress."
The most popular mattress on the market right now, the Tempur-Pedic, is also one of the biggest offenders. Livestrong.com reports the petroleum-based mattress off-gases 61 toxic chemicals. Exposure to these chemicals have caused sore throat, diarrhea, nausea, headache, bloody noses, swollen, red, itchy eyes, and even heart attack symptoms. 

So what is a health concious person supposed to sleep on? Organic latex and soy mattresses are the best option. But buyer beware! Some companies are merely "greenwashing" their products by using the word "Organic" when the only organic product is the cotton cover on the outermost layer. When purchasing a soy and latex mattress look for certification by Certi-Pur which guarantees the foam inside has been rigorously tested to ensure your mattress is free of VOC's, CFC's. CHT's, BPA Phthalate, Methylene chloride, and PBDE.
The final mattress concern is the chemicals added after it is made. Many mattress factories mass produce and then have to warehouse their product or ship them long distances. To prevent insect infestation and fire hazards these long-haul or storage bound mattresses get sprayed with chemical flame retardants and insecticides. It is best to buy a mattress that is made locally and shipped directly to you after it is made.
Have you experienced problems after sleeping on a new mattress? Do you have any other questions or concerns about mattresses? Let me know if you'd like more information.
Barbara Green is the owner of Sensibly Chic Designs for Life and host of Ask the Design Diva radio show. She believes you CAN have it all: kids, pets, and a beautiful home. Visit her at her showroom located at
830 Lamar Avenue in Charlotte or give her a call at 704-608-9424.