Hot Stuff for Cool Kids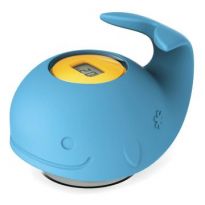 The calendar may read spring, but the temperatures are hot hot hot! Today I've got some hot products to keep your kids cool and comfortable this summer and beyond. The first product is for bathtime. Take the guess work out of bath time by using this whale to tell you the exact temperature of the bath water. No more too hot or too cold, now baths will always be just right!
Another useful product is the award winning Duux Mushroom Humidifier. It uses ultrasonic technology to create a cool mist in your child's room. It doubles as a nightlight so your child can feel safe and sound while breathing cool air. This cute humidifier has the added benefit of using 80% less energy than other humidifiers.
Don't let rainy days prevent you and the kids from having fun. If your trip to miniature golf got cancelled, roll out this "pool table" on the floor and rack up the balls as if it were a real pool table. Then continue play with a golf club instead of a pool cue. It is the best of both game worlds and fun for all ages!
For those that are leaving the home and traveling with kids, my final product feature is the equivalent of a parent growing another arm. This adorable scooter, available in pink or blue, is actually a piece of carry on luggage that you can fill with your child's belongings. They can ride it through the airport or wherever you are going, preventing you from having to carry it. It makes travel fun and your life easier. 
Do you have any other hot products that your cool kids enjoy? Please share them in the comments section below. 
Barbara Green is the owner of Sensibly Chic Designs for Life and the host of Ask the Design Diva radio show. She believes you CAN have it all: kids, pets, and a beautiful home. Stop by her showroom located at 830 Lamar Avenue in Charlotte or give her a call at 704-608-9424.