Hot Spring Trends for Mom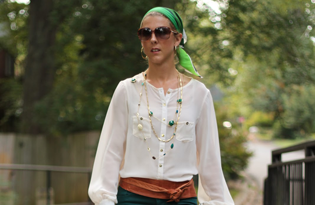 Each season the runway is filled with a bevy of hot new trends; some we love and some, not so much. That's the great thing about fashion, there's so much room for interpretation. Be true to yourself by wearing what you love, and you'll always be on trend. Here are a few of my personal favorites for spring.
Print mixing. Mixing pattern and color is a great way to differentiate your look from the crowd and work with what you have in your closet. Pick colors that are best for your skin tone and pair them with your favorite patterns for a one-of-a-kind look.
Floral pumps and Lucite heels. Flowers on any garment, including shoes, are sizzling hot for spring, as are Lucite heels. This pair is so hot, I think I'm going to need a little handheld fire extinguisher to carry with me when I wear them. 
Mod patterns. As an admirer of all things chic from the past, I love everything about this trend. Think black and white stripes, checkerboard, tight bows, short suits, all things "Alice In Wonderland."
Head scarves. The number of ways to style a scarf are endless, but my favorite is fixed atop your crown. Wrap a gauzy fabric around your messy up-do for a boho-chic vibe, or simply tie it around your ponytail for added flair. Be a little more courageous and style your silk square as a turban. It makes for a quick, stylish "do"on the go.
Mix pattern and color to stand out from the crowd and make use of what you have in your closet.
Whitley Adkins Hamlin keeps it stylish as a mom with two children under 4. Read her blog at CharlotteParent.com/blogs.