Honey I Shrunk the Furniture!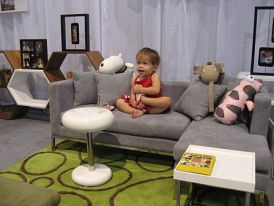 Newsflash! Children are a lot more grown up today than when I was a kid. If your child's discerning taste has progressed beyond the bean bag chair, you're in luck! You now have a wide selection of sophisticated furniture sized perfectly for your Little Prince or Pincess.
Not everyone has the space to have an entirely seperate living room set sized perfectly for their progeny, as shown to the left. But most homes have enough room for a chair or two that can serve as the perfect throne for their young one. There is a style available that will work with just about anyone's design aesthetic:
For the traditionalist, there is the elegant wing chair.
For the modernist we have the Barcelona chair.
For transitional decor there is a kid-sized club chair

Even Philip Stark's Ghost Chair is redone in a pint-sized version.

This is just a small sample of the "Adult-styled" furniture available in pint-sized versions today. Which one is your favorite?
Barbara Green believes you can have it all: kids, pets and a beautiful home. She is the owner of Sensibly Chic Designs for Life and the host of Ask the Design Diva radio show, and insists you don't have to spend a million dollars to look like you did.