Homemade is Best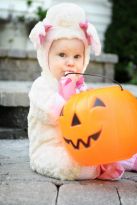 Department store displays turn orange and black this month and that means its time to get going on a Halloween costume. Sure the stores are filled with rows of princess, pirate and witch outfits which can be purchased at a moment's notice and requiring little more effort than whipping out a credit card – but nothing beats a homemade costume. With a little ingenuity, a few extra hours and the right materials, your child can stand out in a sea of costume same-ness.
Eons ago before the internet and Martha Stewart Living magazine, parents had to rely on their imaginations and creativity in costume-making. My very first Halloween costume was compiled from baby wardrobe staples such as a white onesie, a pair of white tights and shoes, a white sweater, a dollar store pair of bunny ears, some black makeup, some construction paper, a bunch of cotton balls and a carrot. "Buffery's Baby Bunny" was a neighborhood hit. My siblings still talk about it today.
For my own daughter's first Halloween, I was inspired by the Wizard of Oz, one of my all-time favorite movies. I loved Glinda the Good Witch and decided my daughter should shower the neighborhood with joy and goodness too. A crafty friend took a sheer white scarf and created a gorgeous cape with the help of a glue-gun, some crystals and some beads. Cyre's crown was fashioned from a mini-visor and more beads. They also came in handy when it was time to create her magic wand. A white onesie, some more white tights and a pair of white shoes completed the ensemble. It too was a neighborhood hit.
Today families are burdened with busy schedules and over-taxed lives and the luxury of spending hours on a costume doesn't exist for so many. What can you do if you're yearning to be crafty, thrifty and more eco-conscious? Visit a local thrift or second-hand clothing store for inexpensive clothing and pick up costume staples. Spend a few minutes browsing these websites for great costume ideas and put Martha to shame!
http://www.halloweenmagazine.com/costumes.htm
http://www.ilovehalloweencostumes.com/
http://www.momswhothink.com/halloween/homemade-halloween-costumes.html
http://www.robinsfyi.com/holidays/halloween/costumes.htm
http://www.1halloween.net/html/costumes.html
http://familyfun.go.com/arts-and-crafts/season/specialfeature/halloween_ms_costumes/
For more great costume ideas pick up this month's issue of Charlotte Parent magazine or click here.
Meaghan Clark is Web Editor for Charlotte Parent magazine.