Home Sweet Home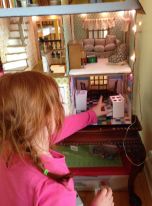 This blog is posting a few days late, but I have a good reason. I've been distracted by something very old and very crafty.
Thirty-four years ago, when I was twelve, I spent a summer in my parents' basement building a dollhouse from an elaborate kit. And I mean the ENTIRE summer. For endless hours, day and night, I made furniture out of tiny beads and boxes, wallpapered with gift wrap, painstakingly needlepointed a tiny "home sweet home" sign and found a use for every small scrap of anything I could scrounge up.
My parents indulged my obsession, occasionally purchasing something I REALLY needed, but mostly through encouragement and tolerance of my all-consuming hobby. That basement was one crafty mess.
The house stayed in storage at my parents' place for years, and I always dreamed that one day I'd give it to my daughter. When we moved to Charlotte ten years ago our daughter was still a dream too. I gave the dollhouse to a friend with three kids. They played with the house, loved it, and made it their own.
Or so I thought.
Until a few weeks ago, when I received an email. Three teenagers in Boston wanted to ship the dollhouse to its rightful owner, six-year-old Amelia.
Opening that enormous box was like stepping back in time. I remember every inch of the house, and seeing Amelia play with it is what I always imagined, only better.  I'd like to say we're restoring it together, but actually I'm the contractor – reattaching and rebuilding broken pieces, painting, wallpapering, and making some home improvements and upgrades (lights!) mostly while Amelia's either at school or asleep.
But she's the owner. She's making the creative decisions about colors and which room is which and it is all part of an elaborate story in her head that is unfolding in the walls of the house. When I'm not working on it, she's playing with it, and playing trumps working. Mostly.
And she sees me, in every spare minute and late into the night, working with my hands on something I love to do. She knows I started this project and loved this house when I was a kid. Twelve is an age she understands. She's learning that a kid can build something lasting, that you can make something beautiful using whatever is around, and that what you love to do can endure for a lifetime.
Our house is home, and a new generation of projects, stories and dreams are beginning.
Want more Mess? Check out my personal blog, or visit my Etsy store, Made by Mommy!