Home Improvement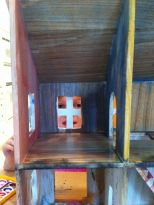 For this week's blog post, I had a plan. We were going to make bird puppets, really we were. Amelia and I went to the craft store for some feathers and other bird supplies, and then we saw it…there in the clearance bin…our dream house.
We had to buy it.
When I was a kid, I spent many days, spanning a few years, in my parents' basement meticulously building and decorating a dollhouse. I left that dollhouse in the care of a friend's children when we moved to Charlotte.  And when Amelia was born a few years later, my friend shipped us some of its original furniture…for someday.
Is someday here?  Maybe!
As soon as we got home, Amelia grabbed her My Little Pony figures and showed them their new house.  Then she asked for paint. The dollhouse is wood and this was an indoor, rainy day project, so in the interests of easy cleanup I gave her watercolors. The ponies patiently looked on while Amelia eagerly and carefully painted every color on every surface, inside and out. As the rooms dried, the ponies came inside to check them out and provide creative direction.
Once the painting was complete, Amelia moved on to the roof, which she covered with My Little Pony stickers. This was her vision, she purposely didn't paint the roof since it would be covered with stickers.
Finally, the ponies selected furniture from my precious box of childhood memories, and Amelia played with those ponies in the house for the rest of the afternoon. And a few hours the next day, and the next day…yes, someday has arrived. We have entered the age of the dollhouse.
We'll make those bird puppets some other day.
A few tips:
We used dry watercolors, which looked kind of pale once they absorbed into the wood. Liquid watercolors may have had a more vibrant result, but still show the grain of the wood. Or, acrylic would give more opaque color.
This dollhouse was an unexpected find, but there are many reasonably priced unfinished wood options in most craft stores.  Vehicles, treasure boxes, even birdhouses would make great projects.
If we ever do this again (and we will!), I might introduce fabric, carpet, tile, and wallpaper scraps or samples, and beads, wood pieces, washers, popsicle sticks, and whatever else we have around to build furniture and home trims. The hardest part of this for me was holding back my ideas and letting Amelia have her own.  But the best part was Amelia's ownership of it. She built the rainbow-colored, pony-themed house she dreamed of, and in its first week it's seen more creative play than any toy we could have purchased.  I can't wait to hear the stories that play out inside those rainbow walls.
Looking for more Mess? Visit Melanie's blog, or drop by her Etsy store, Made by Mommy!