Holiday-Themed Date Ideas for Charlotteans
The latest in our date night series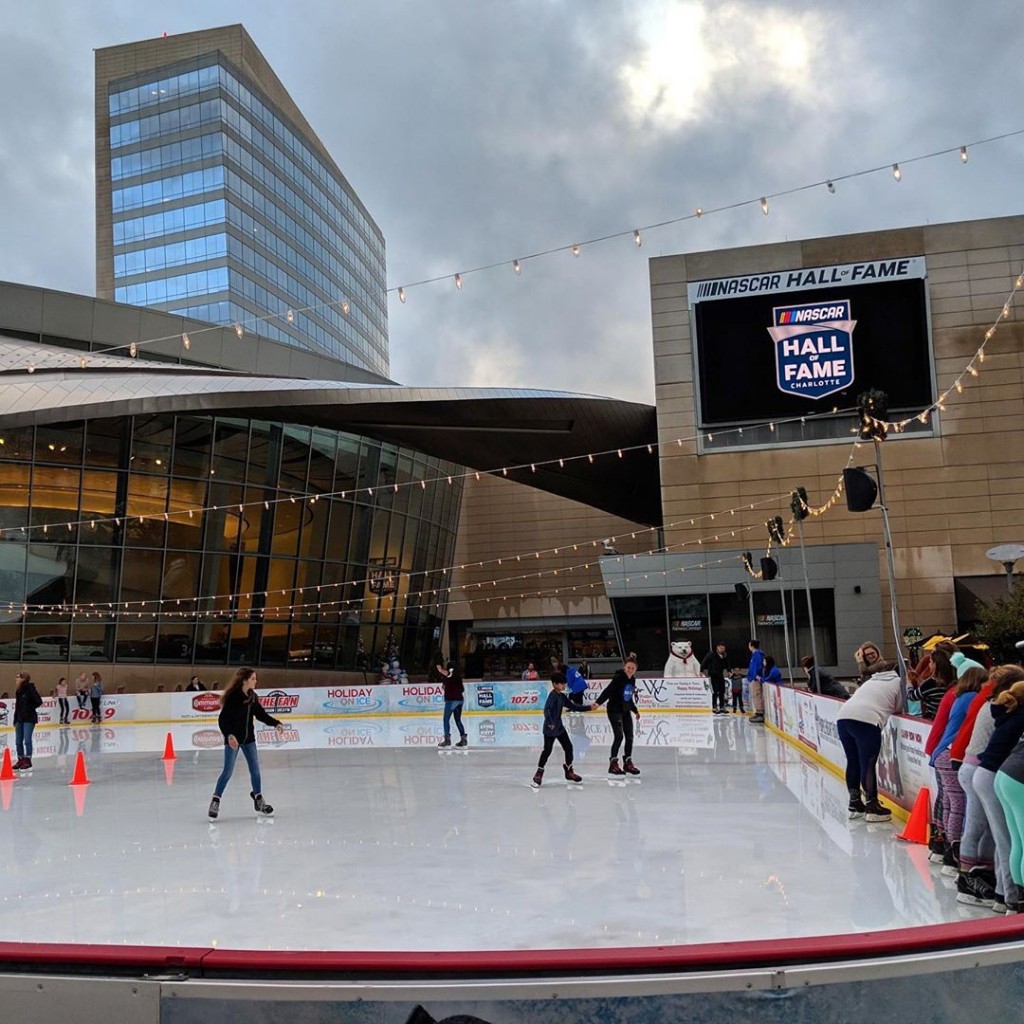 As the holidays approach, many couples find that they want to enjoy some festivities as a family and some without the kids in tow. This month, check out all the holiday fun the Queen City has to offer adults!
As a first stop on your holi-date head uptown to the Charlotte Christmas Village. The Christmas Village is a picturesque option for shopping, sipping and stolling. Stop by the tents of any number of vendors, from those selling jams, jelly and honey to those selling pet goods and handmade jewelry. As you stroll and shop, have a snack prepared by Village Bakery or a drink from Resident Culture brewing. The Christmas Village is open on Tuesdays and Wednesdays from 11:00am-7:00pm, on Thursdays, Fridays and Saturdays from 11:00am-9:00pm and on Sundays from 11:00am to 6:00pm.
After shopping and strolling through the Christmas Village, head over to the Nascar Hall of Fame to partake in some holiday ice skating. Ice skating is $12 if you bring your own skates and $16 with skate rental and runs through January 5th. After skating, warm up with snacks and hot cocoa from the concession stand before taking in the rest of the dressed up Nascar Hall of Fame.
As evening begins to fall, head out to Daniel Stowe Botanical Garden to enjoy their annual Holiday at the Gardens event. When you arrive, take in the model train and Christmas Village set up indoors before starting your stroll through the Mile of a Million Lights. As you walk through the gardens you'll be delighted by dancing lights, glowing trees and plants and waves of color glittering through the Piedmont Prairie. You'll also encounter enchanting fairy villages, beautiful stick sculptures and outdoor and indoor model trains to delight. Half way through your walk you'll have the chance to stop and roast marshmallows over an open fire, listen to live holiday music and sip a warm beverage. Holiday at the Gardens is open nightly from 5:00-9:00 through January 5th. Admission to the gardens is $16.95 Monday-Thursday and $18.95 Friday through Sunday.
As a final stop on your holiday date, enjoy dinner after you take in Holiday at the Gardens from Nellie's Southern Kitchen, which is just a short drive from Daniel Stowe Botanical Garden in Belmont, N.C. Nellie's Southern Kitchen offers a warm, festive atmosphere and a full menu of must have dishes. Nellies is open from 11:00am until on Monday-Saturday and from 10:00am-3:00pm on Sundays. As an added bonus, Nellies offers live music starting at 6:00pm every week from Wednesday through Saturday.
When you sit down at Nellies, you'll want to dive right into their awesome appetizers; try the pecan crusted green tomatoes or the fried okra. After a delicious start, order something hearty like the chicken n' dumplings or the shrimp and grits. As you dine, enjoy the music, the atmosphere and your partner.
This holiday season, as you plan special events for your family and kids, don't forget to carve out some special one-on-one time with your partner. Enjoy your holi-date this month parents!