Holiday Takeout Options Around Charlotte 2022
From party plates to full roast beef dinners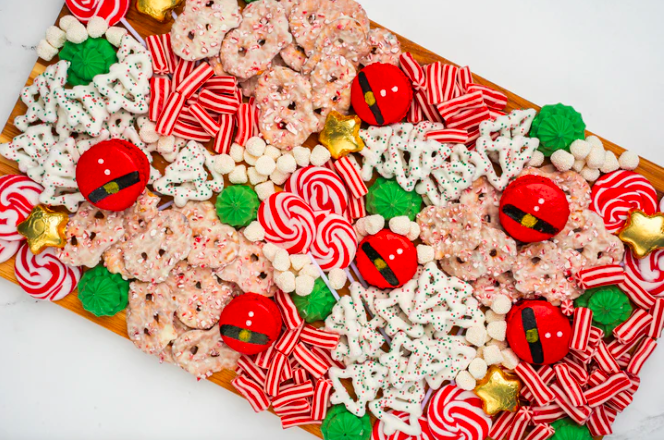 Angeline's has Nonna's Holiday Cookie Box for pre-order. Order online and pick between a small ($24) or large ($45) box of assorted Italian cookies.
Babe & Butcher is offering holiday charcuterie, brunch, and dessert boards for pickup or delivery, including Christmas Eve day.
Big View Diner has a full holiday spread for 10 to 12 people starting at $300. Orders must be placed by December 20, and all packages will be available for pickup on December 24.
Chef Alyssa's Kitchen's menus for Hanukkah and Christmas Eve are now open for pre-ordering and include a variety of side dishes and desserts.
Copain has released their holiday catering menu which includes appetizers, main protein dishes, sides, breakfast spreads, breads, and desserts. Place your Christmas orders online by December 20 at noon.
Earth Fare has complete holiday dinners, ready-to-heat entrees, sides, desserts, breakfast spreads, and catering platters. View their holiday menus and call and reserve at your local store.
Firebirds is offering a holiday feast for 6 for $199.95. Online orders must be placed by December 17 for pickup on December 23 or 24.
Fresh Market offers the whole holiday meal, both in bundles and a la carte in a variety of serving sizes. Online ordering ends December 21 at 2 p.m. Pick up times are available December 21 – 24.
Get a holiday smoked turkey at Macs Speed Shop. The BBQ spot is offering holiday dinner packages for 4, 8, and 12 people, as well as a variety of a la carte sides and desserts. Last day to place an order is December 22 for a pickup on December 24. Preorder before the December 20 and receive a $10 gift card.
Midwood Smokehouse is offering a build-your-own Holiday Feast, that includes local Joyce Farms whole smoked turkey, multiple holiday sides in a variety of portions, and their wood fired smoked wings.
Napa on Providence has a holiday dinner for four for $200. The menu includes prime roast beef and a selection of side dishes. Place your orders online and choose a pickup time on December 24.
New South Kitchen has a full holiday menu to build your Christmas Eve meal. Place your orders by December 20 for pickup on Christmas Eve.
Table & Twine does the hard stuff, while allowing you to feel as if you did the work. Ingredients arrive pre-chopped – simply finish the final cooking steps and eat in as little as two hours. Order one of their Christmas packages – dinner, cocktail party, or appetizers – in portions serving between 6 and 30 people. Pickups or deliveries are available on December 22 and December 23.