Holiday Fun with Frames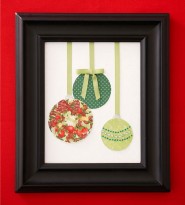 Don't you love this time of year? The beautiful decorations bring a festive look to homes and businesses. Making treasured family memories is also another special part of the holiday season. Why not combine the two and make memories by creating your own holiday decorations? Here are a variety of decorations that you and your kids can make out of picture frames. The first example just needs three circles cut out of decorative paper. I use scrapbooking paper, but you could also use scraps of wrapping paper. Glue them to a solid background, add ribbons and bows and you are all done!
The next is equally simple, but uses three frames instead of one. Again turn to the trusty decorative scrapbooking paper, but this time use a fun font on the computer to print out Let It Snow (or any other saying), putting each word on a separate sheet. I always test the font size on plain white printer paper to make sure it looks right in the frame before using up the more expensive scrapbooking paper. Connect all three frames by hot gluing the back of each frame to a doubled over length of ribbon.  
The first step to the next project is spray painting a frame in the color of your choice. For this project I like to scour second hand stores for interesting frames and paint them to match my decor. Use a coordinating wired ribbon  to make a big bow and tie on  fun ornaments to dangle in the center of the frame.
The last frame art is best done with older children because you will need to use wire cutters, pliers, and wire hangers. Again start with an interesting frame and paint it the color of your choice. Bend one hanger to form the triangle border of the tree. Using the wire cutters, cut other the hangers apart into lengths to fill in the Christmas tree, as shown. Using the pliars, crimp the cross pieces onto the tree frame. Attach the the wire tree to the frame using florist wire and hide the wire by gluing a ribbon bow on top. Hang a variety of ornaments in the center. 
Do you have any favorite holiday crafts you like to do with your kids? SHre them in the comments section below.
Barbara Green is the owner of Sensibly Chic Designs for Life and the host of Ask the Design Diva radio show. She believes you CAN have it all: kids, pets, AND a beautiful home.  Her showroom is located at
830 Lamar Avenue in Charlotte and is open by appointment only. Please call 704-608-9424 to schedule your private consultation.