Historic Fun in the Carolinas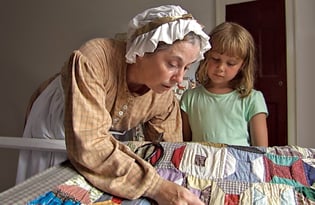 Easily one-third of all the attractions in the Carolinas are historical, so incorporating a hands-on history lesson into a family vacation is logistically easy to do. But how do you sneak history into your day trips and vacations without the family declaring mutiny? Here's how to unlock the amusing, adventuresome side of history during trips in North and South Carolina.
Civil War Sesquicentennial
The 150th anniversary of the Civil War starts in 2011, and in observance of the sesquicentennial the N.C. Department of Cultural Resources has planned more than 200 events statewide.
Visit one of the most famous forts in U.S. History. One of the 13 original colonies, South Carolina became the eighth state to ratify The Constitution in 1788, the first to secede from the union in December 1860, and the site of the first shots fired in the Civil War, at Fort Sumter in Charleston Harbor in April 1861.
Famous battlefields and old forts may look dull on a normal day, but add re-enactors in period attire and you will get the kids' attention. Let your kids join the Army where they will receive enlistment papers, be issued dummy muskets and learn how to march like soldiers. Purchase these items at the Visitors Center.
Most young kids love "playing" around the fort property, so you'll probably hear complaints when it's time to board the boat back to the inland. The fort is only accessible by boat.
Living History
Take a stroll back 100 or 200 years. Go behind the scenes of the first airplane flight or an American Indian powwow. Period costumed townsfolk and park rangers share little-known secrets of inspired peoples. Often, the gift shop on site sells wonderful little play figures that kids can purchase and use to re-enact scenes at home.
If you're looking for adventure with your history, try dune climbing in North Carolina. On one sand dune, you can relive the original flight at Kitty Hawk made by Wilbur and Orville at the Wright Brothers National Memorial. Retrace those 12 seconds that changed the world, and get a bird's eye view of the past. Be sure to sit in on a ranger talk at the Visitors Center. The park rangers are excellent storytellers, describing moment-by-moment details of the accomplishment that forever changed transportation.
Or visit the quaint town of New Bern, N.C. and take the Trolley Tour followed by a stop at the Birthplace of Pepsi soda shop. You'll also find Tryon Palace, where colonial history comes alive. (It's like a miniature Williamsburg.) The new North Carolina History Center exhibits create colorful immersion spaces (kind of Disney does history). History Navigator tours use portable interactive devices to make learning high-tech.
Another adventure waits on the other end of the Carolinas. American Indians roamed the mountains of North and South Carolina — and still do. Visit the Oconaluftee Indian Village and Unto These Hills Drama and the Museum of the Cherokee Indian to learn more about the proud heritage of these Native Americans. As the keepers of tradition, Cherokee storytellers guide you through thousands of years of the Cherokee experience. Travel back to the time of mastodons and atlatls, meet a dramatic chieftain, watch a medicine man create a potion, learn the Cherokee alphabet, or observe the making of blowguns from river cane.
Castles and Gold Mines
Tell the kids you are going to a secret hidden place, like a gold mine, not a museum!
The Carolinas were full of gold embedded within simple rocks. Want to go to a "museum" to find them? Start at a castle! Castle McCulloch Gold Mill museum (off I-85 South in Jamestown, N.C.) has a true medieval feeling with thick walls, a drawbridge, a moat, and a 70-foot tower. Even a knight in shining armor greets you. You have to step over gold mine pits to navigate the path to the castle.
South of Charlotte, you can relive days gone by at Reed Gold Mine State Historic Site museum. Learn how to pan for gold and explore a real gold mine, underground!

NEED TO KNOW:
North Carolina Civil War Sesquicentennial – Find events, facts and more at www.nccivilwar150.com.
Fort Sumter – 340 Concord St., Liberty Square, Charleston, S.C. 29401. 843-883-3123, www.nps.gov/fosu. Free admission to fort and visitors center. Fee for ferry ride to fort.
Wright Brothers National Memorial. Kill Devil Hills, N.C. 27948. 252-441-7430, www.nps.gov/wrbr. Admission: $4 adult (over 16), free for children.
Tryon Palace – 610 Pollock St., New Bern, N.C. 28560. 252-639-3500. www.tryonpalace.org. Admission: $15 adult, $6 student (grades 1-12).
Oconaluftee Indian Village – 218 Drama Rd., Cherokee, N.C. 28719. 828-497-2315, www.cherokee-nc.com/oconaluftee. Admission: $15 adult, $6 child (6-13).
Castle McCulloch Gold Mill – 3925 Kivett Dr., Jamestown, N.C. 27282. 336-802-1962, www.castlemcculloch.com. Admission: $4.
Reed Gold Mine State Historic Site – 9621 Reed Mine Rd., Midland (Charlotte area), N.C. 28107. 704-721-4653 (GOLD), www.reedmine.com. Admission: Free, $2 for gold panning.
Michele Zavatsky is the best-selling author of "Kids Love The Carolinas", and has visited more than 800 kid-friendly places in the Carolinas. Her travel journals are organized and ready for your family adventures at www.KidsLoveTravel.com.