Hideaway Woods: A Natural Playscape Blooms in Durham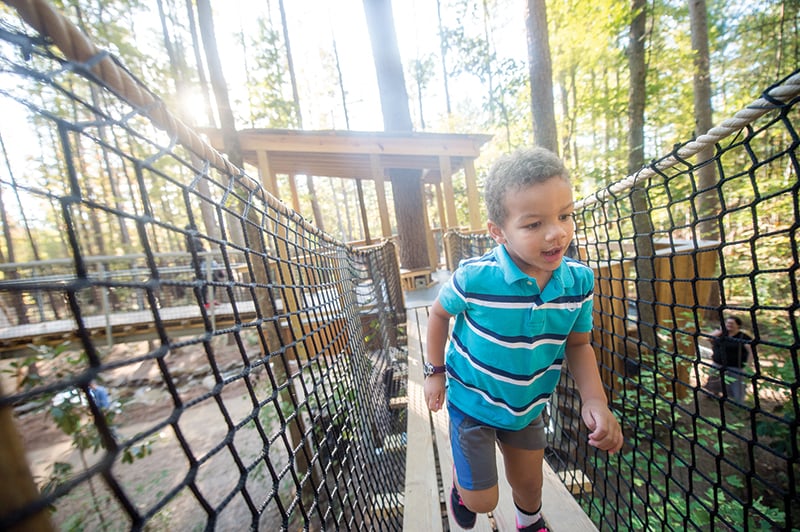 If you spent much of your childhood outdoors, you know that nothing compares to the freedom of playing in nature. You can experience that exhilaration again with your family at Hideaway Woods, a 2-acre, forested escape featuring eight interconnected treehouses at the Museum of Life and Science in Durham.
Creators of Hideaway Woods, which opened in September 2015, believe nature play build the whole person, fostering deeper social, intellectual, physical and emotional development. Visitors, including parents, are invited to explore the interconnected treehouses and to let their imagination take flight. Get a bird's eye view of life while navigating the treehouses, which range in height from six feet to 20 feet. Navigate to the lower set of four treehouses through a cargo net, log ladder, spiral staircase and gangway. You can also slide down to ground level. From the lower treehouse, you can climb on to the upper treehouses by simply crossing a series of rope bridges.
Photo courtesy of Museum of Life and Science
Children ages 6 and younger have their own Young Explorers area designed for early childhood play in Hideaway Woods. This mini treehouse area has scaled slides, bridges and an area for nature-based imaginative play. A fence encloses the area, so you don't have to worry about your child wandering away.
Additional Hideaway Woods play areas include a recirculating woodland stream, the Sweetgum Thicket branch sculpture and other imaginative play zones. Woven by Chapel Hill artist Patrick Dougherty and 12 volunteers, the Sweetgum Thicket consists of organic sculptures perfect for games of hide-and-seek. Made of sticks, this thicket will only last two to four years, so hurry to see it while you can.
Visitors can also walk down the nature trail, lie in one of several hammocks set up for visitors to relax in and gaze up at the trees, or even wade through a fresh water stream. Cross the stream using boulders as you learn how water interacts with other natural elements. In addition to more traditional nature trails, Hideaway Woods features a Sensory Ramble trail designed to engage all of the senses through textured surfaces that encourage going barefoot and sound elements. The Sensory Ramble also is accessible to people in wheelchairs. Other areas accessible by wheelchair are the lowest treehouse, the main exhibit pathway including the main entrance to Sweetgum Thicket, and the upper section of the stream, where there is a wheelchair/stroller-friendly patio near a waterfall.
Visitor amenities at Hideaway Woods include men's and women's restroom with changing tables, a water fountain, a foot wash station and a separate changing area outside of the restrooms (perfect for kids who like to jump right into the stream). You can also relax in Adirondack chairs and benches, which are naturally shaded during the summer.
Access to Hideaway Woods is included in the price for general museum admission, so plan to spend a full day at the museum.
Here's a fun tip: Ride the museum's train for an extra special view of Hideaway Woods.
Learn more at lifeandscience.org/hideaway-woods.
Odile Fredericks is the web editor of Carolina Parent.