Here Comes The Sun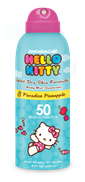 With Spring Break right around the corner for many Charlotte area schools, a lot of families will be travelling somewhere warm and sunny. Children and adults look forward to playing in the sun, but there is nothing less stylish than a bad sunburn, so today I want to tell you about some great sun damage protecting products by Australian Gold, for both children and adults.
For the children, the Hello Kitty SPF 50 Body Mist Sunscreen can be applied to both wet and dry skin. This PABA free, UVA/UVB borad spectrum protection product lasts 80 minutes. The nozzle provides a 360 angle, so it is perfect for families on the go!
I love my Vitamin D as much as the next person. The sun provides all kinds of great benefits, and who doesn't feel great with a tan, but we must all take care of our skin. So, as we slather the suncreen on ourselves, there are also other ways we can get achieve that sunkissed summer skin. Australian Gold Self-Tanning Lotion creates an instant golden glow while rich bronzers develop a radiant, natural-looking shade of bronzed perfection within 2-4 hours. Advanced Elimiscent Technology prevents the odor associated with DHA and this unique gel-lotion blend provides exceptional spread-ability for even coverage without streaking. The lightweight formula dries quickly, while chamomile and Vitamin E soften and soothe skin.  I'm especially looking forward to trying this product out this summer.
I hope everyone has a terrific Spring Break!  Whitley