Helping Children Cope With Loss
How to help a child cope and navigate loss to move toward healing.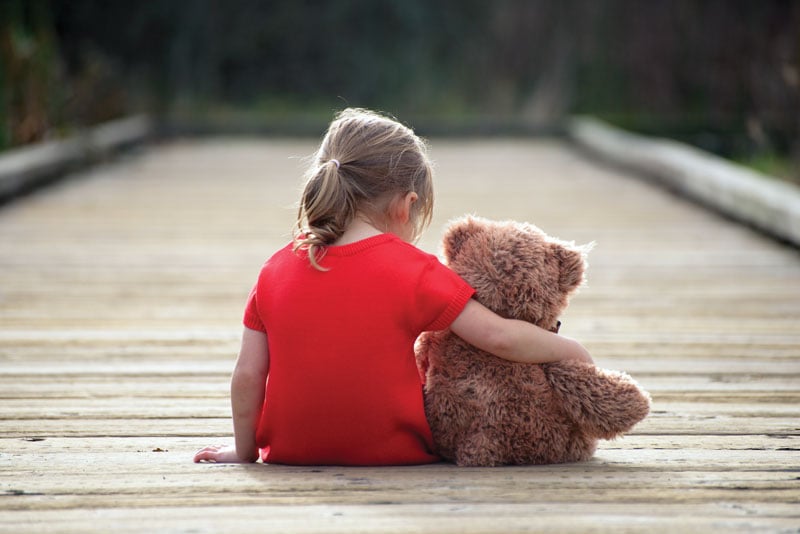 Few childhood experiences are more transformative than loss. Whether a child experiences loss through the death of a pet or loved one, or loses a close friend to a long-distance move, the child's age and temperament affects his or her ability to process grief, as well as the best ways to work through feelings of loss. Here's how to help a child navigate loss and move toward healing.
EARLY YEARS
Tiny Trauma
Very young children experience loss differently than older children. According to The BMJ (formerly The British Medical Journal), babies and toddlers can't distinguish between short-term or more permanent separations until after age 5. At this stage, they may react with the most intensity due to the loss of a primary caregiver. This doesn't mean they don't care about the loss of a pet or a seldom-seen relative, but that they simply can't grasp the permanency of such losses.
When a loss creates a change in caretaking, like the closure of a day care, divorce, or death or illness of a parent or caretaker, babies and toddlers may demonstrate grief through temper tantrums, regressive behavior, sleep disturbances or poor appetite, says Maria Curran, who holds a doctorate in interdisciplinary arts and sciences and is director of the Center for Creativity and Healing in Charlotte.
"Young children have difficulty distinguishing imagination — desires, fears and emotions — from reality and may believe that they have caused the loss," she says, adding that traumatic grief can affect a child's ability to regulate emotion, perceptual awareness, attention and stress response. Caretakers can help minimize trauma associated with loss by maintaining a child's daily routine as closely as possible and by making extra time for warm, loving interactions. The children's book "The Invisible String" by Patrice Karst helps frame loss in a way that very young children can understand.
ELEMENTARY YEARS
Loss Prep
While school-age children have a firmer concept of permanence, they can still be thrown by a loss that disrupts their caretaking or daily routine — particularly when they don't grasp the underlying reasons for the loss, says Dr. David J. Schonfeld, a developmental-behavioral pediatrician and director of the National Center for School Crisis and Bereavement at the University of Southern California. The good news: Parents can help prepare children in advance for an anticipated loss by laying down some foundational understanding.
"First make sure the child understands the current condition," Schonfeld says. "For example, if a person or pet is seriously ill, start by explaining to the child that the person or animal is very sick and the doctor or vet is not sure they will be able to make them better. If the person who is ill has cancer, it would be helpful to know that you can be with the person and not worry about catching it."
Preparing for an upcoming loss may include planning ways to say goodbye and how to best remember the departed loved one.
TEEN YEARS
Grief Help
When a child displays ongoing symptoms of grief that persist for months after a loss, like changes in mood, appetite or sleep, a trained therapist may be able to help. Therapy offers children and teens a chance to address feelings of loss in a safe, nonjudgmental environment with a health care provider trained to help children express and work through difficult emotions. Options aren't limited to traditional talk therapy and should incorporate a child's personality, learning style and developmental stage, Curran says.
"In filial therapy, or parent-child interaction therapy, the therapist works with a parent or caregiver, training [him or her] to be the therapeutic agent for the child at home, she says. "Expressive arts therapy is another option for children who are drawn to creative arts." Examples include visual art, dance and movement, yoga, drama, therapeutic writing or music, or any combination of these.
"Yoga therapy that includes breath work, meditation, guided imagery and visual art settle the nervous system and soothe the 'fight or flight' response to trauma," Curran says.
Malia Jacobson is the author of "Sleep Tight, Every Night: Helping Toddlers and Preschoolers Sleep Well Without Tears, Tricks, or Tirades."