Heidi's Birthday Surprise Sandwiches
Children of all ages will have as much fun making these as they do eating them.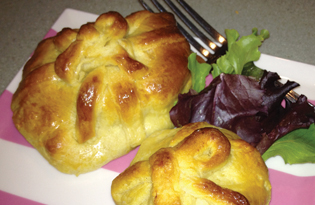 Makes 4 decorated sandwiches
INGREDIENTS:
Favorite meat-and-cheese filling: ham and cheese; a seared burger or veggie burger and cheese; a grilled hot dog or veggie dog and cheese; a grilled boneless chicken breast and cheese; or for a tasty breakfast sandwich, use scrambled eggs and cheese.
2 cans refrigerated crescent roll dough
1 egg, slightly beaten
DIRECTIONS:
Preheat oven to 375 degrees.
Using 1 can of dough, make 4 pastry rectangles from the crescent roll dough, pinching the seams shut on both sides of the dough.
Roll or pat the rectangles out slightly, and place your meat-and-cheese filling in the center of each piece of dough.
Fold the dough up and around the filling, and pinch seams to seal. Place seam side down on a parchment paper-lined baking sheet; brush top of pastry with beaten egg.
Use some of the remaining dough to cut ribbons or decorations for each little package, and attach the ribbons and decorations with a bit of the beaten egg.
Bake for 15-20 minutes. Serve sandwiches hot or at room temperature.
More Birthday Meal Eats and Treats:
> Birthday Profiteroles
> Sparkling Birthday Lemonade