Healthy Spinach & Fruit Smoothie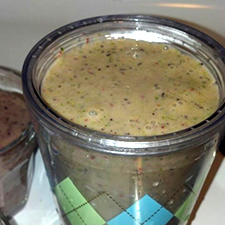 This healthy spinach, fruit and yogurt smoothie includes a touch of honey for a sweet start to your day. 
Ingredients:
2 bananas
an unselfish handful of spinach
10 strawberries
1 cup of blueberries
1/2 cup plain yogurt
honey (one big squeeze)
Preparation:
Combine all ingredients together and blend. Yummy!
> Back to Healthy Recipes