Health Coaches Help Families Meet Fitness Goals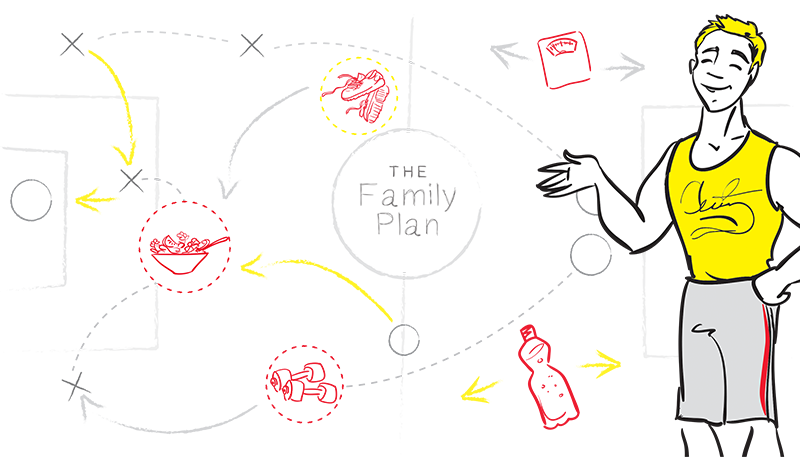 With the new year come resolutions, and some of those resolutions aren't quite so new. Instead, they're frustrated repeats of last year's unmet goals — and often, "getting healthy" or "losing weight" is at the top of that list.
Fortunately, there is a troop of professionals ready and willing to help you and your family meet your health goals once and for all. "Health coaches" have gained popularity over recent years as a result of people hoping to meet a range of wellness goals.
"Health coaching is very holistic," says Janice Horner, a health coach at Ever Better Integrative Health Coaching in Raleigh. "We start with the big picture, because all the parts of your life are tied together. For instance, maybe you're overweight, but the reason turns out to be it's because you're miserable in your job."
A health coach helps to identify the causes before offering strategies for tackling the solutions.
Health coaching isn't just another bandwagon trend, either. A recent study conducted by The Miriam Hospital Control and Diabetes Research Center in Providence, Rhode Island, found that more people lost weight when assisted by professional health coaches than those who were under the guidance of a peer or mentor who had lost weight themselves.
Clear Vision
The first step, Horner says, might be to figure out what your vision of optimal health really is. Unlike medical treatment, where your physician might identify an issue and instruct you on how to treat it, health coaching is very client-driven. "We're essentially a vehicle to help you figure out what's important to you and what health 'looks like' to you," Horner says. "Maybe you want to increase your energy levels so you can run around with your kids more. Or maybe you've always wanted to run a marathon."
A good health coach will guide you to find those answers yourself, then she'll suggest ways you can reach those goals.
"Health coaches don't come in and presume they know what you need to do," explains Suzanne Lineberry, a health coach with Cone Health in Greensboro. "They'll come in and have a conversation with your family, guiding them, helping everyone discover the real motivations behind wanting a change."
Having an impartial third party to help navigate healthy changes in your family minimizes any pushback by family members who might be prone to resist those changes. What's more, when the going gets rough, your family can circle back to your original vision to strengthen your motivation and resolve.
Health coaching isn't the same as family counseling, though, Lineberry says. "Think of it as truly coaching," she says. "It's someone who stands side-by-side with you to help you make the changes you really want to make. Because, let's face it — changes are often hard!"
Realistic Approach
Health coaches don't replace the family physician, of course. Instead, think of them as another partner in your family's health care.
"Unfortunately, most doctors only have time to treat the current condition you came in for," says Terri Murray, a health coach in Charlotte. "There's not a lot of preventative care they can offer. Health coaching augments the care you receive at the physician's office. We've got more time to spend specifically talking about lifestyle changes and things you can do to get and stay healthy."
For example, one family Lineberry worked with wanted to get their weight under control. "They were always on the run, always eating out, and they just didn't quite know how to change that habit," she says. "I did a lot of listening and asked a few questions, making sure to get input from the quiet family members, too. They decided to break it down into steps. First, they'd create a weekly meal plan, then they'd be sure to shop together to keep everything well-stocked."
Lineberry kept in touch for support by phone, in person and by text. "After they were doing it for a while, they wanted to take it further," she says. "So I looked at their meals and just offered an assessment, like, 'Hey, you're not getting a lot of veggies.'" Lineberry says her clients then figured out how to work more whole foods into their diet.
This step-by-step, supportive process, health coaches say, is what makes the health coaching approach so effective.
"The great thing is, it can work for more than just, say, losing weight," Lineberry says. "It's a broad skill used for a big range of issues, like figuring out how to get more sleep, or making lifestyle changes like quitting smoking. It's all about setting yourself up for success for long-term, permanent change."
Tackling Childhood Obesity
"Childhood obesity is public enemy number one," says Charlotte-based health coach Terri Murray. Here, Murray offers suggestions for helping kids tackle weight issues:
1. Keep it fun so kids understand and stay engaged — no meticulous calorie counting or finger-wagging!
2. Give kids a "street light" approach to viewing food. "Green light" foods include fruits, vegetables and whole grains they can fill up on. "Yellow light" foods should be eaten in moderation. "Red light" foods should only be eaten on rare occasions — or not at all.
3. Pick up some kid-friendly cookbooks so children can help make meals and explore different tastes.
4. Show your kids how to be "nutrition detectives" by reading food labels so they can see exactly what they could be eating.
Kathleen M. Reilly is a writer and mom in the Triangle. Learn more about her online at kathleenreilly.com.