Having a Party on a Farm Near Charlotte
It's time to swap 'I want a pony' with 'I want to paint a pony!'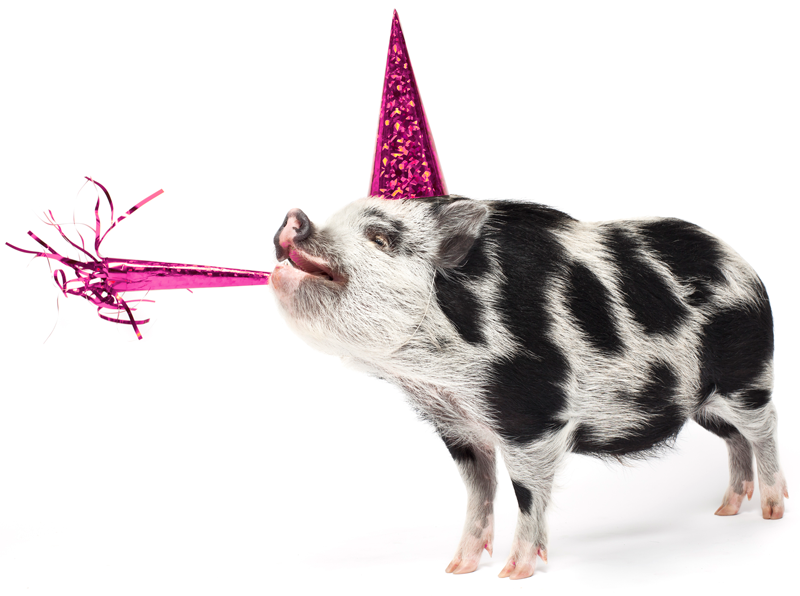 Birthday parties are often characterized by sweaty skin, sticky hands and a day's worth of mess for parents to tackle after celebrations subside. Rambunctious little party-goers can destroy a pre-party cleaning sweep within minutes. This year, preserve your home's cleanliness (and your sanity) with a birthday party far, far away from your property. Skip the party-planning stress and host your child's birthday at a nearby farm.
From York, South Carolina to Statesville, North Carolina, the Charlotte-metro area features at least 17 places to pick strawberries, pumpkins and other harvest produce. Of those 17 farms, more than half also host birthday parties. And, yes, one of them allows children to hand-paint a horse (with nontoxic paint, of course).
The ABCs of Hosting Birthdays at a Farm
Although each farm has different offerings for birthday parties, there are some general details parents can expect to encounter. For children age 10 and younger, here's what to remember before booking a farm for your festivities.
Party packages. Farms that host birthday parties often have tiered pricing and different package options. Lewis Farm in Gastonia, Rescue Ranch in Statesville and Patterson Farm in Mooresville have the most robust offerings for children's birthday parties, with pricing correlating with the number of guests and party add-ons. Add-ons can be everything from a wagon ride at Wise Acres Organic Farm in Indian Trail to hand-painting a horse or renting a photo booth service at Lewis Farm. Farms often include a party host or planner in the reservation cost, along with tables, chairs and coolers, so your hands are clean and you can enjoy yourself as well.
Be prepared. Many of the farms hosting parties do not supply food and other party supplies, but this depends on the farm and party package you choose. Wise Acres Organic Farm has its own locally sourced, wood-fired pizza on-site, and prohibits guests to bring outside pizza, but any other outside foods are fine. Wise Acres also has wagon rides through the woods that can be added to a party package.
With Patterson Farm's themed geocaching Treasure Mine Adventure and standard summer birthday party packages, ice cream or a drink is included in addition to two hours at the reserved picnic area, access to the barnyard, a party coordinator and a cow barrel train ride.
Costs are typically divided per child, and a minimum amount of guests or money spent is to be expected with the reservation. Per-child pricing averages $10-$15 with at least 15 guests needed for a reservation.
Weather alert. Brittany Lewis, farm manager at Lewis Farm, says it's important for guests to remember "we are a working farm, so everything might not go as planned depending on weather and animals." While playing with goats or pigs at Lewis Farm in the sunshine sounds like an ideal birthday for excited young ones, keep impromptu rain storms in mind when booking. Rescue Ranch has an indoor space that can be reserved, though it's understandable that the charm of a farm party is being outdoors. In that case, look toward Regal Farm or Whispering Hope Farm. Regal's space is covered and Whispering Hope Farm has a recently constructed barn pavilion.
---
Farm-esque Experiences
Energetic kids can enjoy their summer birthdays at other similar experiences in the Charlotte area. Lazy 5 Ranch, the exotic animal zoo in Mooresville, allows kids to feed giraffes and see other intriguing animals. Two of its three detailed birthday party packages include treat bags and special perks for the birthday child.
For a different kind of fun, splash around at an Open Swim at Carrigan Farms and cool off from the incessant Carolina heat. Throughout the summer, every Sunday through Thursday, families and kids of all ages can set up picnic blankets and spend a day swimming in the quarry for $15 per person. Kelly Carrigan says Open Swim is best for younger children's birthdays, though kids aged 11 and younger must wear a life jacket while swimming and you share the space with other swimmers. The quarry can be rented, complete with rope swings, for teen birthdays with a minimum of 25 people.
---
8 Places to Get Down on the Farm
Rural Hill, Huntersville
Best in fall with the corn maze.
Carrigan Farms, Mooresville
Open swim for kids or quarry reservation for Sweet 16s.
Lewis Farm, Gastonia
Photo opps with personal hand-painted horse of a different color.
Rescue Ranch, Statesville
Indoor and outdoor options.
Patterson Farm, Mooresville
Themed geocaching and Treasure Mine Adventure party-package options.
Wise Acres Farm, Indian Trail
Tasty, all-natural pizza on-site … and it's really good.
Whispering Hope Farm, Gastonia
Horseback riding and opportunity to pet nine different kinds of animals.
Lazy 5 Ranch, Mooresville
Beyond barnyard animals with exotic giraffe, llama and zebra experiences.
Alyssa Ruane is a freelance writer and media strategist living the lake life in Cornelius. Find her either at a wine bar or walking her Yorkie, Stevie. Twitter: @alyssaruane