Hashbrown Potato Casserole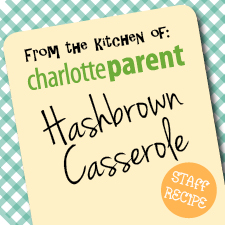 This hearty hashbrown casserole is the perfect side for a hungry family cookout.
Ingredients:
2 lb. package of frozen hashbrown potatoes
1 stick of melted butter
2 cups of grated cheese
1/2 cup chopped onion
Salt & Pepper
8 oz. sour cream
1 can of Cream of Chicken Soup
Topping:
2 cups of crushed Cornflakes
1 stick of melted butter
Preparation:
Preheat oven to 350 degrees. Mix together ingredients in casserole dish. In a separate bowl, mix 2 cups of crushed cornflakes and 1 stick of melted butter. Add mixture to top of casserole. Bake at 350 degrees for 40-45 minutes.