Hand Heart Trees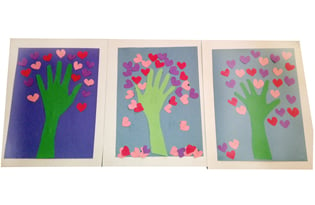 All you need to make this Hand Heart Tree is different colors of construction paper, poster paper, glue and scissors. You can make this a large picture to hang on the wall, or keep it smaller and make cards.
Start by tracing your child's hand on a piece of construction paper. Trace only the wrist and hand for cards, and trace more of the arm for a bigger version. Cut it out and past onto a poster paper, you choose the size. Cut hearts out of different colors of construction paper and glue them around the hand cut-out. Younger kids can have fun gluing the hearts, and big kids can get creative with placement of the hearts adding their own personal design.
Another option to construction paper is to cut hearts from old magazines adding color and character to the heart tree, or use heart stickers.
Thanks to the blog Putti Prapancha for the idea!