Halloween Costume Ideas for the Family
Make Halloween a family affair dressing up together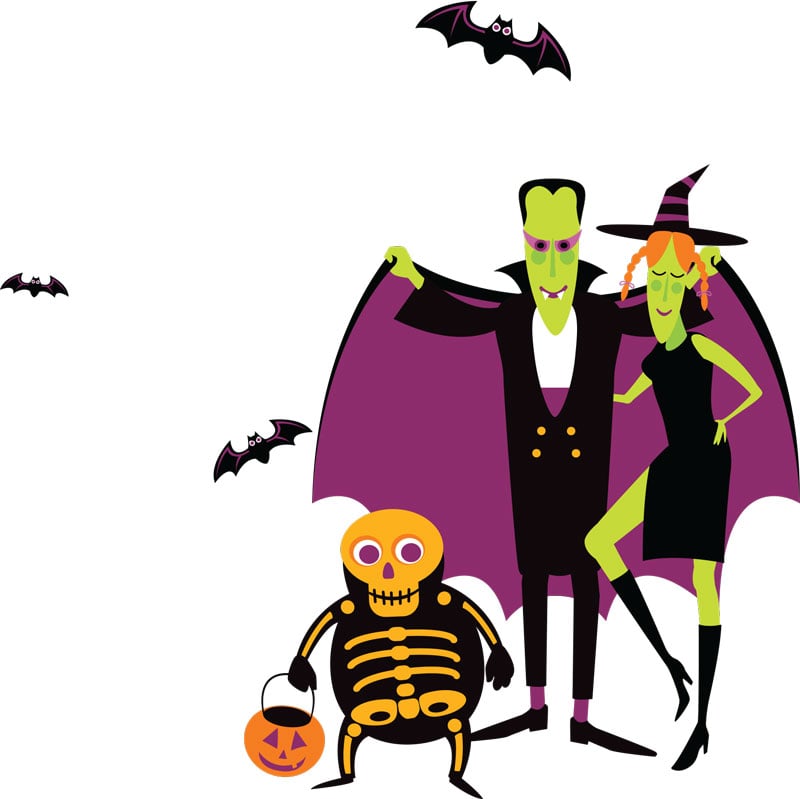 For parents, Halloween can be fun and a little bit of a hassle. Costumes, candy buckets, deciding where to trick-or-treat and often staying up late on a school night are all decisions that we deal with for the sake of fun — or maybe for the handful of chocolate that just happens to get set aside for the grown-ups who make this night of magic happen.
This year my children will be ages 7 and 5 for Halloween. As we prepare for the big night, I can't help but reflect that I don't have that many Halloweens left as a mom with young children. In a few years they'll be trick-or-treating with friends, and then not going out at all. Before that happens, I'm still making memories by choosing a theme and creating family costumes.
Below are six suggestions for family costumes for Halloween. Any of these costume ideas may be either purchased or made at home. Don't forget to check out second-hand stores for costumes, too.
The Wizard of Oz. A family of four could easily do this with Dorothy, Scarecrow, Tin Man, and the Lion. Have a puppy? There's Toto too. For a bigger family, there are a slew of characters that could be added, including Glenda, The Wicked Witch, The Wizard and Munchkins.
Star Wars. The galaxy far, far away never goes out of style and there is also a stream of characters for which it's relatively easy to create costumes. Luke, Leia and Han Solo are the obvious three, but with the addition of "The Force Awakens," you can add Rey, Finn and Kylo Ren. Don't forget C-3PO, R2-D and BB-8.
The Little Mermaid. Does your family have a tendency to break out into song? Then this light-hearted family costume theme may be a great choice for you. There's a father, several daughters, a crab, a fish friend, a bird, a prince, a sea witch … the list goes on. Family costumes work well for other fairy-tale favorites. Have a family of boys? Mom can be Snow White and dad and kids can be the Seven Dwarfs. Or Prince Charming, Cinderella and her mice friends.
Superheroes. You simply can't go wrong with superheroes. As a family, you could go so far as to represent a particular group, such as the Avengers or the Justice League. Old sheets can be cut into capes and masks, or you can purchase superhero costumes for kids or adults. The question is, will you be the bad guys, the good guys or both?
Something on the creepy side. Zombies. Vampires. Witches. Werewolves. Perhaps one of each. Choose a scary theme and create a family of dark creatures for a spooky Halloween.
Where the Wild Things Are. Choose one person for Max and everyone else gets to be a Wild Thing. This would work for other classic pieces of children's literature too. Try Dr. Seuss for inspiration with "The Cat in the Hat" or "Green Eggs and Ham."
The key to an idea like this is to find a theme your kids get excited about. Introduce the idea by talking about your favorite stories or characters and listen to their suggestions. Look for a catalogue with Halloween costume ideas that you can peruse at home, or spend some time browsing for ideas online. Decide if you'll purchase or make costumes and start by making a list of what items you'll need. Most importantly, don't forget your camera on October 31st – this will be one Halloween you'll want to take plenty of photos.
Sara Marchessault is a writer, publisher, and dedicated diarist. These days her own journals are getting lots of details about playing with her kids and the ups and downs of being a mom. Learn more about her work at saramarchessault.com.