Guide to Children's Furniture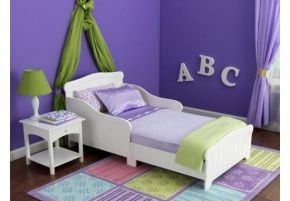 The months leading up to becoming a parent are like cramming for finals in college. You try to learn everything you can to do the best job with the knowledge available at the time. There is no baby needing feeding and changing, so finding time to educate yourself is not a problem. Fast forward twelve to eighteen months and that child is bleeding every ounce of energy and every minute of time from your life. It may be time to transition out of the crib, but where are you going to find the time to research children's furniture? Fear not, I've got you covered right here:
1. Toddler Beds – Use this as a transition from the crib to a standard bed. It is affordable because you reuse the crib mattress and bedding. You simply purchase a bed frame that is low to the ground, made to fit the crib mattress, and comes with side rails to prevent rolling out of bed.   
2. Children's Beds – When I was growing up all children had twin beds, but now the trend is full or queen sized beds. To encourage a tidy room I recommend a bed with built in storage underneath. It makes for quick and easy room clean up and it also prevents having a burial ground of toys that get kicked under accidentally and never find their way  back out. 
3.  Clothing Storage – Back in the stone age when I was a kid, everyone had their clothes in a dresser. Closets were small and kids didn't have a lot of stuff. With the size of closets in modern homes, I recommend a closet system rather than a dresser. Include adjustable height rods so they will grow with your child, and bins for items like socks and underwear. Heavy drawers can make it difficult for the younger children to take care of their clothing, but with a closet system they have much easier access.  
4. Bookcase – I am "old school" on this one, too With iPads, Kindles, and Nooks there is talk of the bookcase going the way of the dinosaur, but I firmly believe children need to grow up with an appreciation for real books. Reading books improves their vocabulary, their imagination, and helps them do better in school. Nothing compares to the tactile feeling and the vibrant illustrations of a child's book. Please don't deny them that pleasure. As for the bookcase, remember to anchor it securely to the wall for safety.
      
5.   Table and chairs – A large surface comes in handy when the imagination is developing. Whether building a Lego structure, coloring a picture, or having a tea party, a table and chairs enables comfort and creativity.
6.   Toy chest and Organization System – It doesn't guarantee a clean room, but without it there is no way the room will be able to stay clean. Start them young with the habit of cleaning up each night before bed so they never have a day-long disaster area to overwhelm them.
That should pretty much cover the necessities. If your child's room is spacious and you'd like to add some extras, refer back to my post from March 28th on kid-sized club chairs, sofas, and sectionals. 
Be sure all of the new furniture you buy has the "GreenGuard" finish on it. It is No-VOC, which means it will not off-gas. The tremendous increase in autism has often been attributed to the high levels of off-gasing from the products, paints, and carpeting in children's room. I'd rather take a precaution and find it was unnecessary than live to regret ignoring it. If you have any other questions about kids furniture please let me know!
Barbara Green believes you can have it all: kids, pets and a beautiful home. She is the owner of Sensibly Chic Designs for Life and the host of Ask the Design Diva radio show, and insists you don't have to spend a million dollars to look like you did.