Guide: Outdoor Activities In and Around Charlotte
Roll, stroll, and explore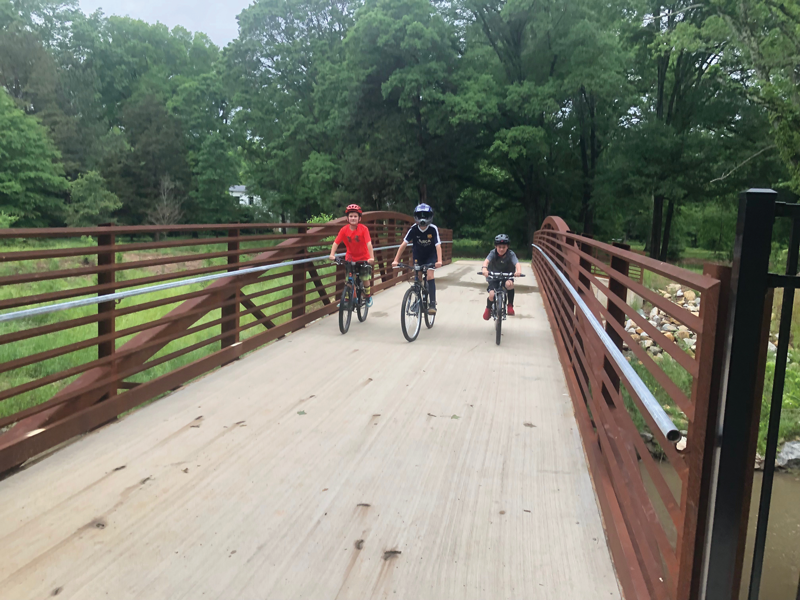 For families who crave active lifestyles or simply enjoy the great outdoors, the Charlotte area doesn't disappoint. Whether you ride bikes on a trail or spend the day splashing around, these activities offer something for all in the family.
Let's Roll
Little Sugar Creek Greenway. With more than 19 miles to explore, this greenway is perfect for family bike rides. Stop and enjoy the scenery, grab a bite to eat at Metropolitan or Park Road Shopping Center, and take a break to play at Freedom Park. Check the Mecklenburg County website for ways to access the greenway from around Charlotte.
Charlotte Rail Trail. The highlight of this 4.5-mile stretch of walkway from Southend to uptown Charlotte is the brightly colored "magic carpets" painted along the way. Electric scooters can be a fun way to explore the Rail Trail, but anyone under age 16 must wear a helmet and be sure to stop at the crosswalks. Scooters can be found just about anywhere along the Rail Trail. To ride, simply download one of several apps, including Lime or Bird, to unlock the scooters, scan a QR code and hop on. Along the way you will find several restaurants, including an ice cream, tacos and pizza, and even breweries perfect for a quick meal.
Four Mile Creek Greenway. This 2-mile stretch of greenway has a rock feature with bubbling water as well as a disc golf course accessible from the greenway. Ride a bike or scooter, stroll with babies, and then walk over to nearby Squirrel Lake Park to spend some time on the playground or by the lake. 1631 Pleasant Plains Road, Matthews.
BMX Supercross. Bicycle Motorcross — more commonly known as BMX — is one of the newest additions to the Olympics and one of the fastest growing youth sports. Hornets Nest BMX located at Hornets Nest Park in northwest Charlotte is deemed the top USA BMX track in North Carolina. Novice to expert bike riders of all ages can join and spectators are welcome to watch anytime at no cost.
Located at the Rock Hill Outdoor Center is the Rock Hill BMX Supercross Track. Programs are offered for all ages and abilities at the Rock Hill track, and it hosts national events each year. Hornets Nest Park, 6301 Beatties Ford Road; and 1307 Riverwalk Pkwy., Rock Hill.
Take a Stroll
Freedom Park. Freedom Park is to Charlotte what Central Park is to New York City. Located on East Boulevard in Dilworth, the concrete path around the 7-acre lake at Freedom Park is great for strolling, scooting or biking, or hop over to the Little Sugar Creek Greenway that runs alongside the park. The park also is outfitted with a great playground and NFL Play 60 Kidzone. 1900 East Blvd.
Carolina Raptor Center. Take a walk on the wild side along the the Raptor Trail at the Carolina Raptor Center. See more than 30 species of raptors and other birds, including owls, vultures, hawks, eagles and falcons on the three-quarter mile trail. The Raptor Trail also features a nesting pair of Bald Eagles who live in the Eagle Aviary. Add a bit of history to the visit with a stop at Latta Plantation, adjacent to the Carolina Raptor Center. 6000 Sample Road, Huntersville.
Daniel Stowe Botanical Garden. This massive botanical garden located in Belmont has various gardens, including the Lost Hollow Children's Garden, an orchid conservatory, and loads of family and holiday programming. 6500 S. New Hope Road, Belmont.
Crowders Mountain State Park. With multiple hiking trails of various difficulties, it's easy to spend a day exploring Crowders Mountain. Enjoy 25-mile views from the peaks of Crowders Mountain and Pinnacle trails. The park is located a short distance off Interstate 85 in Gaston County, about 40 minutes west of Charlotte's center city.
DeAnna Taylor is an attorney turned travel blogger and writer. She is a native of Charlotte and loves highlighting the city whenever she can. Michele Huggins is the editor of Charlotte Parent magazine.