Growing Hands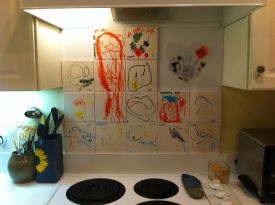 It all started with a baby shower gift. Someone gave me a very thoughtful gift of mommy-baby handprints in clay. Amelia was born earlier than expected, so we celebrated her due date, and the healthy 5-week-old she'd become, by having this done.
And I was hooked. Every birthday since has been commemorated in some way, and this year's will be no different.
For the first two years, I painted Amelia's hands or feet and stamped them with her on wall hangings.  These were really my projects, around her baby prints.  But by her third birthday, Amelia had taken over. We started with a 6″x 6″ tile, leftover from our bathroom walls.  I'd planned for a handstamp on the tile, but Amelia had her own plans. This birthday fell in the middle of Amelia's potato period – every clean surface she encountered was soon adorned with a blobby body, eyes and stick arms.  So to remember this year, it seemed appropriate to preserve a potato person…or two or three or more.  I handed her some permanent colored markers, and very shortly we had a row of potato people tiles signed, dated, and ready to hang.  We discovered that they fit perfectly above the stove, so I "temporarily" stuck them up there with poster putty.  You guessed it – they're still there.
By her fourth birthday, Amelia was done with potato people and the princess phase was just beginning.  She carefully laid three tiles together to create a canvas long enough for Rapunzel's hair.  The differences in her interests, drawing, and writing skills from year to year are astounding, and side by side above the stove, they are a daily reminder of how – and how quickly – she's growing. It's not just about the size of her hands anymore, what she DOES with her hands, driven by her own imagination, is what I most want to remember.
This Wednesday Amelia will turn five. I have tiles ready, and a little space left above the stove. I can't wait to see what those growing hands and mind will do.
A few tips:
• There really is no right or wrong way to do this.  We started the drawing tiles by accident, without a plan.  Use what you have, improvise what you don't. Follow your child's lead and preserve, in any format that works for you, a glimpse into who they are each year.
• If you try tiles, permanent markers work well. After two years of cleaning, they are starting to fade a little bit, I think a protective clear coat may have been a wise addition.  And remember to protect your child's clothing and work surface – permanent markers are, well, permanent.
• Poster putty is still holding up for now, but I think when the wall is filled I may take the tiles down and more permanently affix them to a board that can be hung – and one day removed if need be – from the same wall.
Have fun and Happy Birthdays!
Want more Mess?  visit Melanie's blog, or drop by her Etsy store, Made by Mommy!