Grilled Banana Splits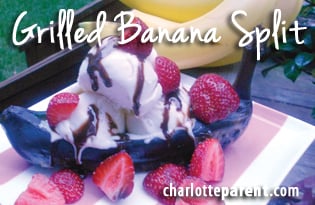 Place 4 unpeeled bananas on a medium-hot grill. Grill 4 to 5 minutes on each side until bananas darken and slightly soften. Cut into the peel to expose the banana and serve warm, topped with Biscoff spread, marshmallow fluff and nutella – oh my! You can add ice cream if you like.
Homemade Ice Cream
2 cups whole milk
2 tablespoons vanilla
1 cup sugar
6 egg yolks
1 cup heavy cream
Combine the milk and vanilla. Beat the egg yolks and sugar well until the mix is thick and almost white. Add the milk to the egg mix. Transfer to a large saucepan. Stir the mixture constantly with a wooden spoon over medium heat until the custard starts to thicken. Remove the pan from the heat; add in heavy cream to the custard and blend well.
Cool the mix to room temperature and then transfer the mix to the refrigerator to chill it down completely. Pour the cold custard into the ice cream freezer and freeze according to machine instructions.