Green Eggs and Ham Mini Tartlets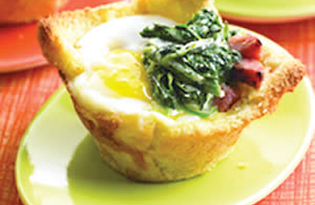 Made with bread, rather than pie crust, lunchmeat ham, frozen spinach and, of course, eggs, the recipe is surprisingly simple. Most of the ingredients likely are already in your kitchen, too. Serve it later in the month as a St. Patrick's day treat, and may these festive tartlets bring you luck!
Green Eggs and Ham Mini Tartlets
Serves 4
(Recipe courtesy of Familyfeatures.com)
Ingredients
• 1/3 cup finely chopped fully-cooked ham
• 4 1/2-inch-thick slices soft white sandwich bread, crusts removed
• 2 tablespoons butter, softened
• 1/2 cup frozen chopped spinach, thawed and squeezed dry
• 2 ounces reduced-fat cream cheese, softened
• 3 tablespoons grated fresh Parmesan cheese
• 1 teaspoon 2-percent milk
• 1/2 teaspoon garlic powder
• 4 medium eggs
• Freshly ground black pepper
Preheat oven to 375°F. Press white bread with palm of hand until flat and doughy, and butter both sides. Gently place in 2-1/2-inch muffin cups or 4-ounce ramekins, pressing to form 4 individual tartlet crusts.
Mix spinach, cream cheese, Parmesan cheese, milk, and garlic powder in small bowl; set aside.
To assemble tarts: Divide ham among the 4 bread cups in muffin cups. Crack 1 egg into each tartlet crust, season with pepper, and top with a generous spoonful of spinach mixture. Bake in oven for 12-14 minutes or until egg whites are firm, but yolks are still moist. Cool slightly. If using muffin cups, remove from cups to serve.